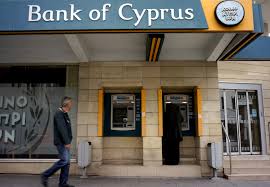 By Thanasis Gavos – London
The Bank of Cyprus board has charged ahead with a series of painful adjustments in order for the country's "mega-systemic" bank, as President Anastasiades has described it, to come out of the stalemate in which it has found itself following the banking sector restructuring.
Reductions in salaries between 11% and 30% and cuts or abolition of bonuses have been announced, along with the intention to reduce personnel numbers by 2.5 thousand people through voluntary retirement and redundancies. At the same time the special administrator appointed will be leaving the bank on 22th June, although the institution will continue to be subject to the consolidation procedure.
Bank of Cyprus is now the only big pillar of the national banking sector and the quicker it stands on its feet the less the Cypriot economy and businesses will be threatened with collapse, commentators agree.
Aware of that and annoyed by the troika's disregard for the unnecessary additional burden imposed on the bank by loading on its shoulders Laiki's ELA liability of 9bn euros, President Anastasiades sent a letter to the country's creditors asking for "active and tangible support". The letter was sent on 11th June but was only just "discovered" by foreign news outlets, causing the government to say it does not demand a renegotiation of the bailout memorandum and anonymous EU officials to say that there would be no such possibility anyway.
But what officials in Cyprus do admit, and one just has to read the letter to realise it, is that there are practical problems that need to be resolved; and Nicosia finds itself in the hard position of requiring permission to go ahead with alternative solutions.
A large part of the letter was dedicated to the Bank of Cyprus woes. The Cypriot leader does not just criticise the bail-out terms, as many foreign media reported; he presents solid proposals asking the creditors to consider them. As regards the bank, Mr Anastasiades suggests that "a possible long-term solution could be the conversion of part of Laiki's ELA liability into long term bonds and the transfer of these bonds and corresponding assets into a separate vehicle." Another suggested solution could be "the reversal of the Eurogroup decision in relation to the merger of Good Laiki (carrying the €9 billion ELA liability) into Bank of Cyprus." He also slams artificial measures such as capital restrictions which "rather than creating confidence in the banking system they are eroding it by the day."
London's Open Europe think tank analysts believe that troika "will not take to the letter too kindly". Cypriot economists agree that it would be difficult for the creditors to admit mistakes or spitefulness, but they hope nevertheless that responsibility and logic will prevail. "Hopefully sooner rather than later, or too late," commented a Cypriot businessman.