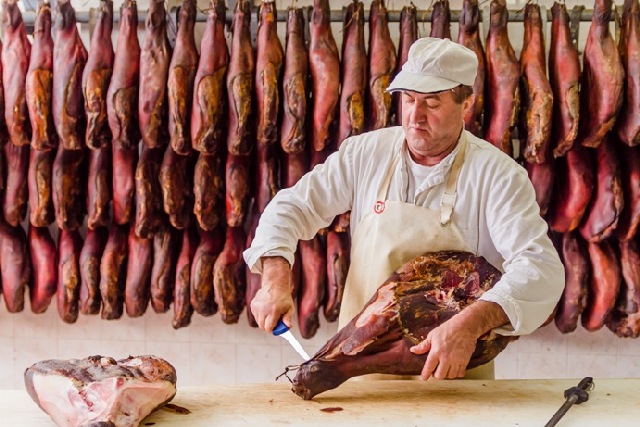 By Adnan Prekic – Podgorica
Russian Answer to the sanctions which have been imposed due to the crisis in the Ukraine is a prohibition of  food import.
Montenegro joined European Union sanctions against Russia  and it was among the countries that  are concerned by that decision.
However, montenegrin products are not on the list of products whose import to Russia is prohibited. Montenegro exports to Russia are mainly meat and wine, and since the beginning of this year, the value of these exports is  approximately 10 million euros.
EU countries imposed sanctions Russia due to the crisis in Ukraine and the response of Russia was the prohibition of import of agricultural products, raw materials and food for one year.
The Ministry of Foreign Affairs of Montenegro said that in the published list of prohibited products for import to Russia, there are no products from Montenegro.  Montenegro, at the moment, is not on the list of countries to which the sanctions were imposed by the Government of the Russian Federation in accordance with the decree of Russian President Vladimir Putin, "on the application of certain special economic measures aimed to ensuring the protection of the security of the Russian Federation", as it was announced from the Ministry of Foreign Affairs and European integration.
The Minister of Agriculture Petar Ivanovic said that during the first five months of 2014, overall exports from Montenegro to Russia are estimated to about 8.5 to 10 million euros. Products that Montenegro exports mostly to Russia are wine and meat, so Ivanovic warned that it would be useful to abolish sanctions relating to wine, prosciutto and other processed meat products.
The Ministry of Foreign Affairs of Montenegro announced earlier that they believe that the position of Montenegro should be understood by the  government and citizens of Russia. The government of Montenegro said that their decision of joining  the sanctions was  needed, as an act of harmonization with the decisions of European Union. Such decisions have been in line with the realization of foreign policy priorities of Montenegro and at did not have an anti-Russian character.
The Russian government prohibited the import of certain products from all EU member states, the United States, Australia, Canada and Norway for the  next year.
The government of the Russian Federation could  opt to extend the sanctions  to air traffic, as well as a number of measures in the area of aviation industry, shipbuilding and car industries.