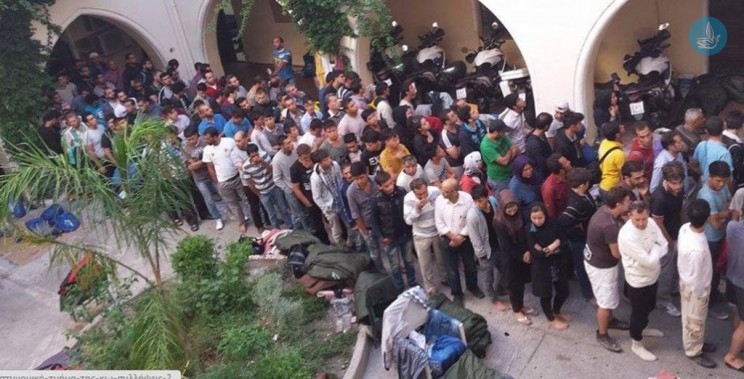 Athens, August 12, 2015/ Independent Balkan News Agency
By Spiros Sideris
Explosive remains the situation in Kos after Tuesday mornings' incidents with the refugees. The mayor of Kos, Giorgos Kyritsis calls for the immediate intervention of the Prime Minister Alexis Tsipras to prevent the situations from getting out of control.
The incidents started in the morning when refugees refused to be transferred to the old Stadium "Antagoras" and closed the coastal boulevard shouting slogans against the authorities. Citizens gathered on the spot to oppose the migrants, while later police used fire extinguishers to repel them.
The anomalous situation led to the decision to strengthen the police forces with two riot police squads, while there are fears for citizens' initiatives who have not so friendly feelings for the refugees.
The mayor of the island, Giorgos Kyritsis, in a statement urged the government to immediately address the issue of migrants, who are more than 7,000 in Kos at the moment.
"There is danger of spilling blood and that might take the situation out of control", he said.
Kyritsis underlines: "This is the last warning I sent to the state. More than 7,000 illegal migrants have been gathered in Kos. The management of the problem is no longer possible. Be warned that the risk of bloodshed that would lead to uncontrollable situations is real".
He notes that the government must assume its responsibilities and stresses the need for immediate action, with extra ships and even with the assistance of the Navy, so that the 7,000 migrants to be taken off the island. Also he asks for squads of riot police to be sent to Kos to address potential incidents and extreme situations, to end the myth of the identification process, since with 7,000 illegal immigrants on the island and 600-800 arriving daily, identification is impossible and guarding the maritime borders becomes extremely difficult.
Meanwhile, new incidents broke out on Tuesday in the process of issuing travel documents for the thousands of migrants and refugees waiting in Kos. Police used fire extinguishers to disperse the crowd, which had begun to become indignant.
According to the envoy of the Associated Press, police used fire extinguishers when fights broke out between migrants who were waiting at the island's stadium.
The incident comes one day after the uproar that was caused in the public opinion with a policeman of Kos, who was caught filmed slapping immigrants and brandishing a knife.