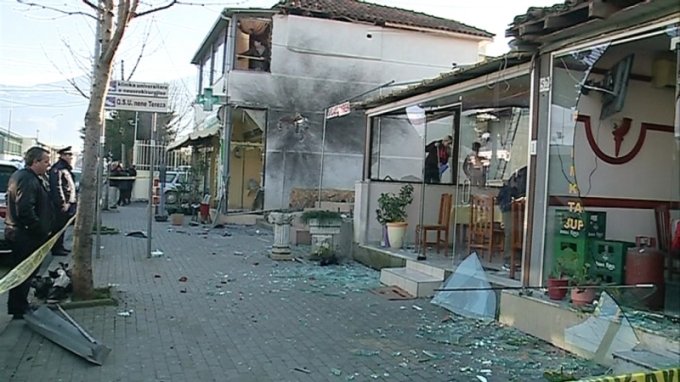 Tirana, February 10, 2015/Independent Balkan News Agency
Three explosive blasts shocked the Albanian capital today. One of them targeted a drug store, property of Bashkim Tahiri, father of Minister of Interior, Saimir Tahiri.
The second explosion was stimulated by police, as an amount of explosive substance had been left in a bus station.
The third blast took place at the home of a former police officer.
The motives and the authors of these acts are still unclear.
For all three of these events, police has launched inquiries in order to find the authors and find out if they are related to one another.
The blast at Tahiri family
The blast occurred at "Kongresi i Manastirit" street near Tirana Hospital University Center. Preliminary inquiries indicate that the blast (photo) has been carried out through the use of TNT and as a result, there are many material damages.
Following the blast, police has taken under protection the family of Bashkim Tahiri.
Blast in the home of a former police officer
Meanwhile, another blast has taken place in a building in the capital near "Arben Minga" street.
This blast too has caused material damages, but no human casualties.
The  other event has taken place at the home of a former police officer at precinct 3, Alfred Numani.
A terrorist act near a bus station?
Another blast has taken place this morning in the capital, near "Vasil Shanto" school. The area is densely populated.
There are suspicions for a planned attack, because passengers found a TNT bar at the bus station. Alarmed by the explosive that they found, citizens called police. A team of specialists arrived at the bus station and stimulated the blast.
It's not yet known who may have been the person to leave the explosive substance at the bus station and this has led to the launch of an inquest over a suspected terrorist act.
Police is investigating in order to shed light upon the circumstances of these events and to identify and capture the authors.
In the recent days, there have been a number of terrorist acts through explosives. The end of 2013 and a part of 2014 were filled with such events that often claimed lives.
In the majority of cases, police has not been able to identify the authors. There have been suspicions that in the majority of these acts, there's been a detailed organization, especially as far as the sale of TNT and the hiring of the executors of these blasts are concerned. /ibna/