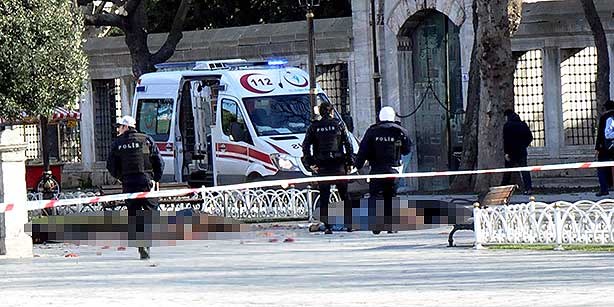 Istanbul, January 12, 2016/ Independent Balkan News Agency
Hurriyet
An explosion occurred on Jan. 12 in Istanbul's touristic Sultanahmet Square, killing 10 while wounding at least 15, Istanbul governor's office has said.
According to reports by private broadcaster CNN Türk, the explosion occurred by the obelisk of Theodosius in the touristic Sultanahmet Square in Istanbul's Fatih district.
According to Istanbul's governor's office, 10 people have been killed in the explosion while at least 15 people have been reported wounded.
Some of hospitalized wounded are in critical condition, CNN Türk has said, amid fears the death toll might increase.
Three Turkish victims were brought to a hospital in Samatya, the broadcaster added, with one currently in surgery.
Çapa Hospital was cited as the hospital where most of the victims are being treated, though a clear number has not been provided.
Three German tourists with light wounds were reported to be at Cerrahpaşa Hospital.
Crime scene investigation teams and a bomb squad launched a helicopter investigation into the explosion.
Although the cause of the explosion remains unknown, police are focusing on the possibility of a suicide bomber, CNN Türk has reported.
Trams between Beyazıt and Eminönü stops were temporarily halted while the environs of Sultanahmet Square was closed to traffic.
The explosion was strong enough to be heard in nearby neighborhoods, the broadcaster reported, quoting witnesses.
A number of ambulances, police and fire trucks have been deployed to the scene.
Turkish Interior Minister Efkan Ala has also informed Prime Minister Ahmet Davutoğlu about the explosion.
Meanwhile, a police car overturned on its way to the scene of the explosion and was righted with the assistance of passersby.