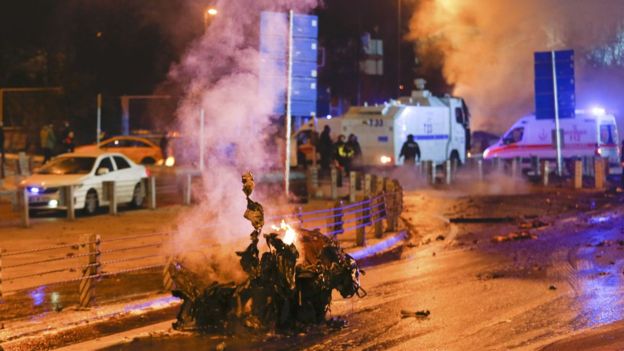 Two explosions near a football stadium in Istanbul, Turkey, have killed at least 13 people and injured many others, reports say.
Turkish officials said the blasts, believed to be a car bomb and a suicide bomb, had targeted police officers.
Witnesses heard gunfire after the attack, which happened two hours after fans had left the Besiktas stadium.
Turkey has seen a recent spate of militant attacks in major cities that have left dozens of people dead.
No group has said it was behind the attack but a wave of bombings in Turkey this year has been carried out by Kurdish militants and so-called Islamic State (IS), the BBC's Turkey correspondent, Mark Lowen, reports.
The fact that police appear to have been hit will focus suspicion on Kurdish guerrilla groups, who have mainly targeted the security forces, he adds.
Transport Minister Ahmet Arslan wrote on Twitter that it was a terror attack.
The blasts came two hours after a football match at the Vodafone Arena between Besiktas and Bursaspor, two of Turkey's top teams, ended.
Local media reported that fans had already dispersed. Bursaspor posted on Twitter that none of its groups knew of any injured fans.
Interior Minister Suleyman Soylu said: "It is thought to be a car bomb at a point where our special forces police were located, right after the match at the exit where Bursaspor fans exited, after the fans had left."
He later said the second blast, at nearby Macka Park, was believed to be a suicide bomb.
TV channel NTV reported that the target of the first attack was a bus carrying riot police.
Photographs posted on Instagram after the explosion showed helmets strewn on a road and damaged vehicles.
A police helicopter circled overhead and windows in nearby buildings were blown out by the force of the blasts./IBNA