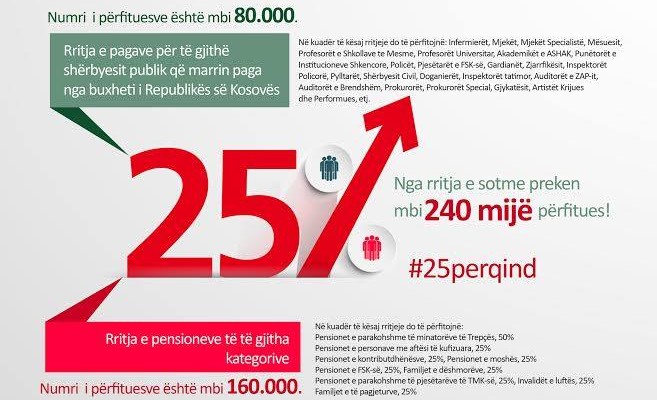 Pristina, March 11, 2014/Independent Balkan News Agency
By Elton Tota
Experts of economic issues and representatives of opposition parties have considered the decision of the prime minister of Kosovo to increase salaries from 2% to 50% as unstable and artificial.
Professor and expert of economic issues, Lumir Abdixhik told IBNA that the increase of salaries will not have a great impact on the life of the citizens, due to the fact that prices for consumption products are very high and that the country is facing inflation.
"Average inflation in Kosovo during the past 4 years has been around 20%. It's a good thing that salaries rose for 82.000 civil servants. Although this rise is unstable, symbolical and above all, artificial, it amortizes to a small extent the abnormal increase of prices taken place in the past 4 years", says Abdixhiku.
According to him, Kosovo continues to face great unemployment and the government of Kosovo is not creating the necessary conditions for the opening of new jobs.
"700.000 new jobs must be opened in order to admit that we have a sustainable economy. Good working conditions must also be offered for another 270.000 employees of the private sector and this is only achieved by creating a good economic environment in the country", says Abdixhiku.
The economy professor says that more work should have been done in the past 4 years in order for the country to have a quality health service, "a judicial system which removes criminals from the streets, an educational system that educates youth and a state that leads us all to Europe".
According to the expert, the decision to increase salaries doesn't redeem all the mistakes that have been made and suggests that "nonetheless, Kosovars know better than this".
Hoti: 25% pay increase is insufficient
Member of the steering committee of the Democratic League of Kosovo (LDK), Avdullah Hoti says that the 25% pay increase is insufficient. Speaking for IBNA today, he suggests that pay increases for public sector workers must be the same for every worker.
"Pay increases are only taking place at times of elections. We saw this happening in 2010 and this is also happening now in 2014. A 25% pay increase is insufficient. In the past 3 years, inflation has been 13%, thus reducing the real value of salaries and increasing the cost of products that can be purchased. As a result of inflation, this increase of 25% amounts to a 12% real increase. In order to have a real pay increase, this increase of salaries should have been 38%", says Mr. Hoti.
According to him, this strategy followed by the government is unsustainable. "During the next LDK government, salaries will increase every year, taking into account annual inflation , economic growth and state budget revenues. This is the only way to preserve the real value of salaries", says he.
Hoti says that increase of salaries for the public sector is not sufficient and that there must be more measures to assist poor people who are struggling to survive.
"Above all, public money must not only benefit 82 thousand public servants. Social allowance must increase for 150 thousand people who live in poverty, there must be an increase on base pensions, an increase of benefits for veterans, families of martyrs and invalids of war. The government must also assist 300 thousand unemployed people who have lost their hopes of finding a job", says Hoti.
In its decision the government has also included this category of people.
Prime minister of Kosovo, Hashim Thaci says that the promise for an increase in salaries is being fulfilled thanks to good governance.
Thaci considers this increase, which he had promised during the last electoral campaign, as the biggest growth in Europe during this year.
"Over 30 categories of salaries and public pensions will increase by 25% starting from April 1. This is a promise that I fulfilled thanks to good governance", says the prime minister. /ibna/
More: Up to 50% increases of salaries and pensions in Kosovo