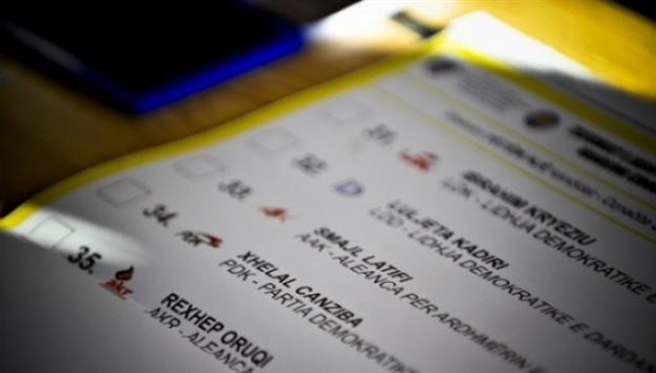 Pristina, September 3, 2013
Experts of the political situation and experts of legal issues say that the decision of the Central Election Commission is not legal, but political.
According to them, this decision is based more in the political aspects of the April 19 Agreement reached during the talks between Pristina and Belgrade, brokered by the European Union.
Former lawmaker in the parliament of Kosovo, Riza Smaka believes that the elections are a state issue and that the decision of CEC is in breach of the Constitution.
"The removal of the state logo from the ballot papers came as a result of the pressures from Belgrade, which conditioned the participation of the Serbs of Kosovo in the elections with the removal of the state symbols. Meanwhile, political declarations of the authorities say that the decision taken by CEC are political hypocrisy", said Smaka.
According to him, the entire thing was part of the Brussels' Agreement.
"In principle this cannot be in compliance with the Constitution because the elections are a state issue. CEC takes the necessary measures to hold them, but it's not the institution that determines the holding of the new elections", said Smaka.
Meanwhile, Dren Doli from the civil society has said that this decision will have consequences after the elections.
"It's a very dangerous precedent which can then be used by the Serbs of the north in all cases when the logo of the Republic of Kosovo or institutions of Kosovo will be required to be put in buildings, other documents, by-laws, instructions issued by institutions that act in the north of the country", said Doli.
Meanwhile, Self Determination Movement has warned that it will send the decision of CEC for the logo to the Constitutional Court.
"I believe that the request of Self Determination may be turned down by the Constitutional Court and to be declared as unacceptable due to the lack of constitutional jurisdiction to examine the decisions issued by CEC", declared Doli.
Meanwhile, professor Riza Smaka believes that even if the decision of the CEC is sent to the Constitutional Court, it will find an interpretation which will leave the decision in force.
He expects for the Constitutional Court to take a decision as soon as possible due to the short time remaining until the holding of the local government elections.
According to Serb authorities, the Agreement is neutral in relation to the status of Kosovo, thus the ballot papers and elections held in the North of Kosovo must be considered as neutral. /ibna/