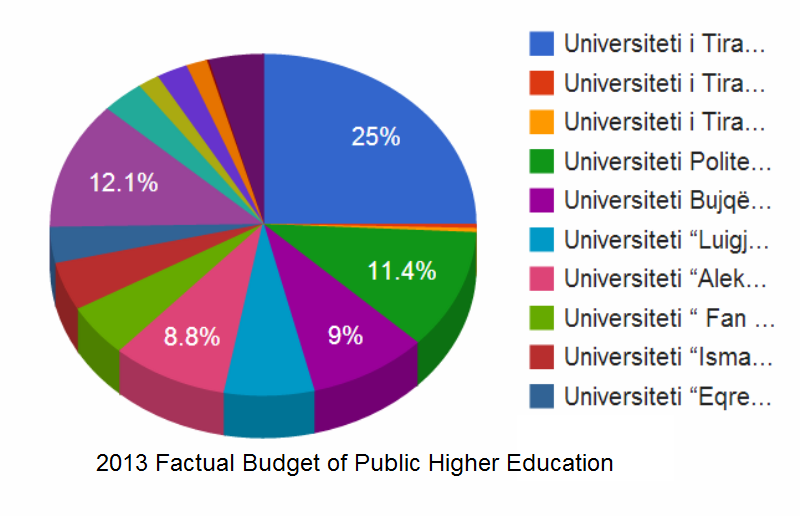 Tirana, April 8, 2014/Independent Balkan News Agency
State owned universities in Albania have made all kinds of expenses in the past three years, but not a single penny has been spent on equipping faculties with scientific literature.
This is the conclusion of a survey made on the expenses of public universities in the country.
Open Data Albania (ODA) offers the conclusions of the study: "It's been noticed that none of the public universities makes expenses on scientific research. Rectorates have not hesitated to spend on subscriptions to the daily press, phone bills, medals, but not a single case shows that money has been spent to purchase scientific literature or programs.
Aranita Brahaj, head of ODA, offers for IBNA other detailed figures on this fact. She says that public university budgets have seen a progressive growth from one year to another. Nevertheless, there have not been purchases of scientific literature, which is necessary.
"In 2012, the total factual budget for all universities has been 6.7 billion ALL, while in 2013, it has been 7.5 billion ALL, thus 12% more than 2013. In 2012 and 2013, it was the University of Tirana that spent the majority part of the total fund. During 2013, University of Tirana spent 25% of the total budget allocated for universities".
There's also been an analysis of the Center for Albanological Studies which has been established in the framework of the restructuring of the Albanian university and academic system, upon the decision of the Council of Ministers, which unites 4 scientific institutions, Institute of Archeology, Institute of Language and Literature, Institute of History and Institute of Culture. This institution has the status of a cross university center accredited by national accreditation authorities.  This center too has not spent anything on scientific literature.
University professors in the country consider the fact that budgets do not provide for purchase of scientific literature as a handicap. It's a fact that many professors in all universities write their own books and sell them to their students, by benefiting extra incomes. Some say that these books are not subject to monitoring in order to assess their quality and productivity. /ibna/