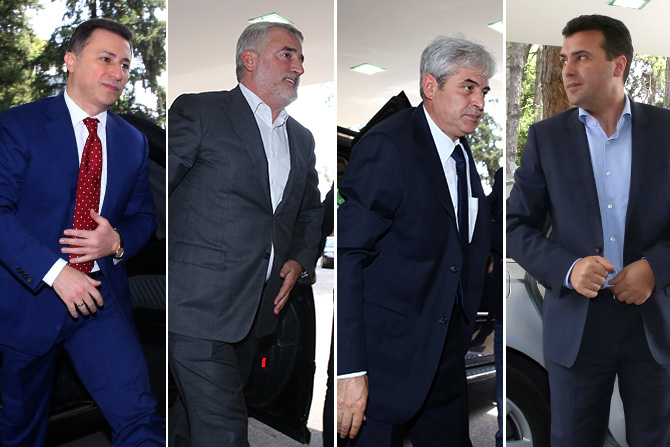 Skopje, 26 May 2015/Independent Balkan News Agency
By Naser Pajaziti
The third round of talks between the leaders of the four main political parties is expected to take place today with the scope of overcoming the political crisis. Present in the meeting will be the prime minister and leader of VMRO-DPMNE, Nikola Gruevski, leader of SDSM (Macedonian Social Democratic Union), Zoran Zaev, leader of BDI (Democratic Union Party), Ali Ahmeti and leader of PDSH (Albanian Democratic Party), Menduh Thaci.
With the brokerage of US and EU ambassadors, Jess Baily and Aivo Orav, the four political leaders are expected to reach an agreement for the crisis.
So far, the four leaders have signed an agreement through which they have expressed their determination to talk about the crisis and its solution. Last week, 10 hour negotiations were held in Strasbourg between the two leaders, Gruevski and Zaev, with the presence of EU Enlargement Commissioner, Johannes Hahn and MEPs.
In spite of this optimism and meetings to find a solution, political analysts say that there is nothing clear and that political leaders are not ready to find compromise.
Analyst Albert Musliu says that the process of talks and the solution depends on the international community.
"The solution depends on the international community. So far there's been readiness to talk, but the sides are not coming to an agreement on a technical government, where Gruevski insists on remaining PM. I believe that such meetings will come to an end and the final solution will be sought in Brussels", declared for IBNA, political analyst Albert Musliu.
The head of the multi ethnic project "Inbox 7" in Skopje, Dzelal Neziri is not optimistic that there will soon be a solution to the crisis.
"I believe that that the solution of the crisis is in the hands of PM Nikola Gruevski. I'm not optimistic that there may be a solution this week. The crisis which has engulfed Macedonia is not easy to be solved. If the PM agrees on an interim government without him in it, the crisis will receive an institutional solution, without threatening the security of the country and the region", declared for IBNA, Dzelal Neziri.
Analysts say that the tactics followed by political protagonists in the table of negotiations may bring new turbulence.
General director for enlargement at the European Commission, Christian Danielsson has expressed his concern about the developments in FYROM, demanding from the government and opposition to be engaged for a constructive political dialogue.
"There must be political responsibility, in order to restore faith on institutions", declared Danielsson, commenting the wiretapping affair which has broken out in FYROM.
Citizens also demand a solution to the political crisis and demand normality to be restored in the country. "This situation requires a solution and we, as citizens, need a positive finalization. We want the wiretapping scandal to be investigated, along with the case of Kumanovo. Regardless of our ethnicity, we don't want violence or ethnic clashes", declared Sofia M, a student from Skopje. /ibna/