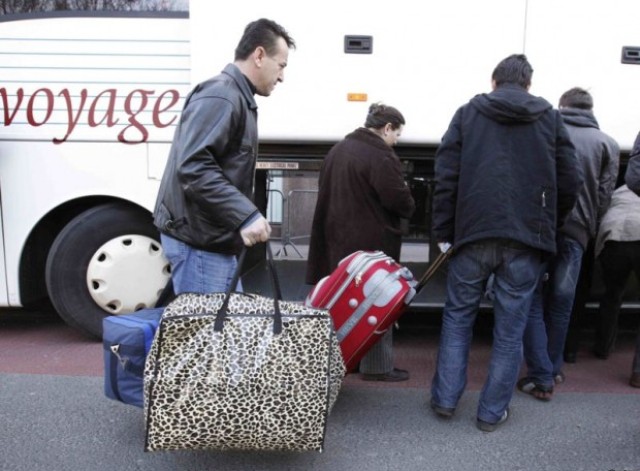 IBNA Special Report
Tirana, April 21, 2015/Independent Balkan News Agency
By Edison Kurani
What, for many months, had turned into a daily thing for many people everywhere in Albania, in the recent hours has turned into the main focus of political debates. Albanians are fleeing!
But what is really happening? Why are Albanians leaving?
These questions are answered by many voices of politics in Tirana, but those who attempt the asylum say that nobody can answer.
Germany, refugee camps are filled with Albanians
Film footage with amateur cameras from different German cities, are touching. Barracks which do not meet any European living standards, filled with people who often sleep ten in one place. The conditions in which asylum seekers live in these camps created for them, according to the testimonies given by them, are a true misery. They say that they continue to stay, because "hope dies last".
The fleeing of Albanians and their demands for asylum in Albania have turned into a real concern for the authorities of this country. German Interior ministry says that for the month of March, there have been 3020 asylum applications by Albanians or two times more than in January. Asylum applications by Albanians have been high even during April, but official figures have not yet been published.
The publication of these figures obliged State Police to exert strict controls in border crossing points. As a result, in the past 6 days alone, around 1500 citizens have been blocked on the border.
According to Border Police, these citizens do not meet the conditions to move toward the Shenghen area.
INSTAT: The number of Albanians who leave for the EU has increased
INSTAT says that the number of Albanians who are leaving toward the EU has seen a rise since 2014, after the number of people returning with their own will from Italy and Greece, countries that were affected by the economic crisis.
In 2014 alone, according to the Population Report drafted by the Institute of Statistics, 46,413 people have emigrated abroad, where 52% of them are men and the rest are women and children.
Border control is strengthened
The increase of the number of Albanian asylum seekers has worried not only EU countries, but Albanian authorities too. The General Director of State Police, Haki Cako, has also issued a circular, where police officers in border control points are asked to thoroughly verify the paperwork of people who travel abroad.
The order aims at preventing the fleeing of Albanians who want to seek asylum. This circular demands the interviewing of travelers over their itinerary and that they must inform them that no European Union country offers economic asylum.
Many Albanians are being stopped on the order
German Ministry of Interior issued in the past few days a report, which said that the number of asylum applications from Albanians had significantly increased in the three first months of this year.
According to the data of this report, for the month of March 2015, Albania ranks third after Syria, with 3020 applications. Kosovo continues to be ranked first.
In February, 1794 Albanians had applied for asylum in this country, 146 more than in January. Albanian police reacted on these figures. The Ministry of Interior launched an operation last week where it stopped 750 citizens on the border, as according to the authorities, they didn't meet the criteria to travel without visas to EU countries.
A citizen who was stopped as part of this "wave", says: "I left for Greece, like I do almost every month. By bus. I go and spend some time with my relatives there and if I find a job, I stay two or three months and I come back. This time they didn't let me. They demanded absurd things. They asked me how long was I going to stay, if I had 230 Euros for every day of stay, my brother's address, what kind of job he does, if he has a family and other questions that I was never asked before. My journey was pointless, because nobody knows what expenses he does and what plans he makes for his life", says Dorian, a 26 year old from Fier who says that he's unemployed.
The interrogatory between Tirana and Rome
Dritan is 33 years old and since 2010, when the six month visa regime was lifted, he has visited EU countries many times, mainly Italy and Greece. He says that he's careful not to stay more than 90 days within a period of six months there.
In the recent days, there's been a lot of talks about asylum seekers and he says that he's not very happy with the treatment on the border.
"I traveled from Tirana to Rome by plane to spend the weekend there. In Rinas, Albanian customs officials asked me many questions. I reluctantly answered. They didn't care although I had been in Italy several times these months. At the end, they let me pass. When I arrived in Rome, I faced another session. They were worse. They wanted to know how much money I had in my pockets. They made you take out the wallet and they counted the amount of money that you had on you. They asked for a hotel booking and they made you wait until they checked this with the hotel. Then, a number of questions that made me even more reluctant to visit Italy again", says the 33 year old, manager in a private distribution company in Tirana.
Conspiracy for exodus?
In the recent weeks, the private company that produces passports in Albania, has faced a large number of applications. The Ministry of Interior suspects that they're part of a plan to leave the country. Officially, no figure has been issued, but it's thought that there are several thousand applications more than the normal number of the season.
Some police investigators suspect that citizens are being deceived by different individuals that they will be granted asylum in Germany or other EU countries if they leave the country.
But can Albanians be granted collected asylum in Germany or in any other European country for that matter? Dr. Eriona Canaj is a university professor and expert on Emigration Issues. She says that the EU legislation has clearly defined the cases of people who meet the criteria for political asylum.
Canaj says that those Albanians who attempt the asylum, have no chance to be granted, therefore they will be deported. "Albanian citizens are free to travel in any EU country, but not to seek accommodation, employment and live there, because they are being deceived by people who encourage the exodus", Canaj says.
The expert also describes the situation of asylum applicants. "They stay in camps and stay together. Political asylum cannot be granted in a collective way, even in the case of massive fluxes. The application is made on an individual basis. The application is made if a person is discriminated on political grounds in his country. But this is not a valid circumstance in our reality", says Canaj.
She explains why citizens must not be deceived with the waiting period that emigrants are given, because this has to do with the EU policy for human treatment, but they will nevertheless be deported.
"EU countries will not grant a positive reply. If we're talking about particular age groups, such as elderly people, pregnant women, children, etc, democratic countries are obliged not to deport these people at once, because they respect the human side of things. But this doesn't mean that they will not soon be deported", Canaj says.
The asylum seeking regulation has been defined in 1951 in the Geneva Convention. Based on this regulation, when there are abuses with asylum applications, the receiving state may take measures. Germany implemented this regulation in the past few days with the announcement of the plan for expedient procedures of the procession of asylum applications. According to the law, every application must be processed although it's known that that no political or economic asylum is granted for Albanian nationals. And what will happen in a few weeks or months from the application is the repatriation of every asylum applicant.
If a citizen is rejected his application in a EU country, he has automatically lost this right in all European states, because if a citizen of any nationality seeks asylum in one of the EU countries, then all the other countries will be informed on this application and the result of the application.
Rama: Albanians are being deceived, the EU doesn't grant asylum
PM Edi Rama has not issued a lot of comments on asylum seekers. He has only issued a declaration in Vlora, where he called on citizens not to fall victims of these frauds. The prime minister considered those who offer travel packages of this nature, as criminal groups.
The head of the government said that no EU country can grant political or economic asylum. "This is a big misunderstanding, which has been exploited and is being exploited by criminal elements, to manipulate people and to take their money by speculating with a situation whereby Germany is looking for a number of emigrants who are equipped with particular professions and it has not announced any opening of borders or policy to welcome emigrants who go there for economic reasons. We have made this very clear and we continue to make it clear, but unfortunately, people fall a victim of these criminal elements, as it happened in Vlora a while ago", said the PM.
Berisha: Rama is responsible for the exodus
Former PM, Sali Berisha is proud about the fact that since 2010, when the free movement with the EU countries was implemented, until September 2013, when he left power, problems with asylum were insignificant.
A question arises today: Will the visa regime be introduced again?
The democrat MP Berisha, says that there are several factors that encourage Albanians to leave the country. "The difficult economic situation, the scandals with accusations for murder between exponents of the majority and the government's austere measures are some of the factors that cause the exodus of Albanians toward European countries to seek asylum", Berisha said.
Under these circumstances, blaming the government, former PM says that the relaxation of fiscal measures may be a solution. He calls on the two financial institutions, International Monetary Fund and World Bank to revise the agreements with the Albanian government.
***
European Union member countries have appealed several times to Albanian authorities to control the movement without visas. Since 2010, when Albania benefited from such movement, it was never ranked amid problematic countries, as far as asylum seekers are concerned, in contrast to what has happened with FYROM, Kosovo or Serbia.
Currently, the number of asylum seekers in Germany has amounted to 600 people a day. On the first and second place are Albanians from Kosovo and Albania, while Syria is third. Around 200 Albanians a day seek asylum in Germany.
Police and Albanian prosecution have started an investigation over these massive departures. They suspect that there are several criminal groups that organize travels to Germany, in exchange of large amounts of money. The Ministry of Interior launches this appeal: "This is a fraudulent scheme with asylum, therefore we call on the citizens not to fall victims. It's impossible for Albanian citizens to be granted political asylum in the European Union countries". /ibna/