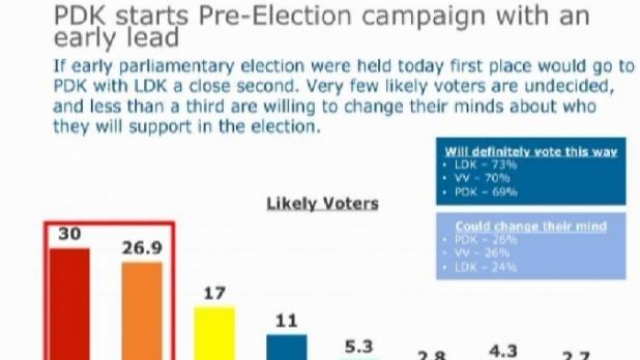 Pristina, May 21, 2014/Independent Balkan News Agency
By Elton Tota
Exit polls have started to be conducted ahead of the parliamentary elections. The first was the one to be conducted by a news TV network. It was reported that the exit poll was carried out by a professional organization specialized on electoral forecasts, but its name was not made known in order not to affect the election result.
According to the polls, if parliamentary elections were to be held these days, PDK would win 30% of the ballots and LDK 26.9% of the ballots.
On the third place would be Self Determination with 17%, AAK with 11% and AKR with 5.3%.
According to this survey, Incentive for Kosovo will not be able to cross the electoral threshold, by winning only 2.8% of ballots.
Opposition parties in Kosovo have immediately reacted against this exit poll which was conducted from 13 to 20 April of this year.
Democratic League of Kosovo (LDK) has condemned what it considered as attempts of departing government, "to cause confusion among the citizens who are determined for changes in Kosovo and to punish through their vote those who through their corruption, nepotism and without transparency have governed the country so far".
"The paid exit poll indicates the difficult situation of the governing party and those who benefit from it. This is a survey which comes ahead of the great defeat that they'll concede on June 8", reacted LDK.
Alliance for the Future of Kosovo has also reacted against the survey.
"Pre-ordered surveys which will result to be a mistake like it has happened in the past. In fact, they're only making us laugh with these exit polls. They will learn the result of the true polls on June 8 before midnight", said Ardian Gjini, head of the Electoral Staff of AAK. /ibna/