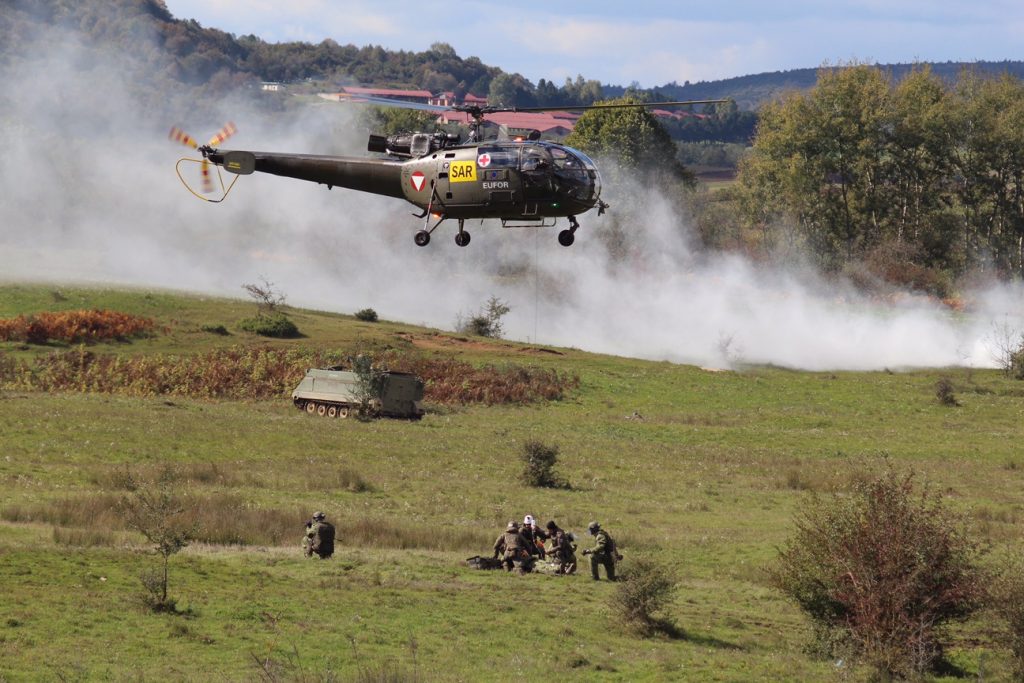 Banja Luka, October 5, 2016/Independent Balkan News Agency
By Mladen Dragojlovic
More than 750 soldiers from Multinational Battalion of EUFOR, BiH Armed Forces (AFBiH) soldiers, troop of the EUFOR reserve force in the United Kingdom, as well as troops of Portuguese and Hungarian soldiers from the EUFOR Tactical unit and mission from NATO KFOR held in the past few days the tactical exercise "Quick response 2016″, which ended on Wednesday with the demonstration of skills at the military compound Manjaca, near Banja Luka.
The exercise was attended by a large number of officers of countries that are taking active part in the exercise, and the Head of the EU Delegation to BiH and EU Special Representative, Lars Gunnar Wigemark. They all had the opportunity to see what the soldiers were trained in the last few days. The exercise was performed in several situations. One part of the scene was the group of civil demonstrators who were broken by the special unit. Other soldiers provided security for VIP persons who came on the negotiations, some soldiers capture terrorists and wounded soldier who were transported by helicopter in secure environment.
After exercise, Wigemark  told reporters that this event showed that EUFOR forces can cooperate with the OS BiH.
"The exercise is part of our readiness, I mean on EU and partners and allies, but also on AF BiH and other countries participating in EUFOR, we have seen many of them today", Wigemark said.
The Commander of the Joint Staff of the Armed Forces, General Ante Jelec welcomed support of EUFOR to allow the OS BiH to exercise together and to improve their capacities and capabilities.
"AF BiH today exercised peace support and peacekeeping. With other participants we have demonstrated the ability to work together, shoulder to shoulder, and that AF BiH can participate in UN missions, missions of preserving and building peace in the world. We've been through this exercise test strength and skills", Jelec said.
He added that it is necessary to point out what should be done in OS BiH to make them more prepared. Jelec confessed that "equipment is inferior part of the OS BiH" and that it is necessary to improve the situation in this part.
EUFOR Commander, General Friedrich Schroeter, said that the military units from many countries came on Manjaca with one goal, to practice together in BiH.
"We take very seriously our role to be active in taking responsibility for a safe environment and cooperation to the OS BiH. We have also shown a willingness to cooperate with the OS BiH which we want to help to develop as much as is possible", Schroeter said.
The exercise took place from September 30 to October 5, when the final demonstration of skills was conducted. The entire operation involved more than 750 soldiers with seventy different types of vehicles.