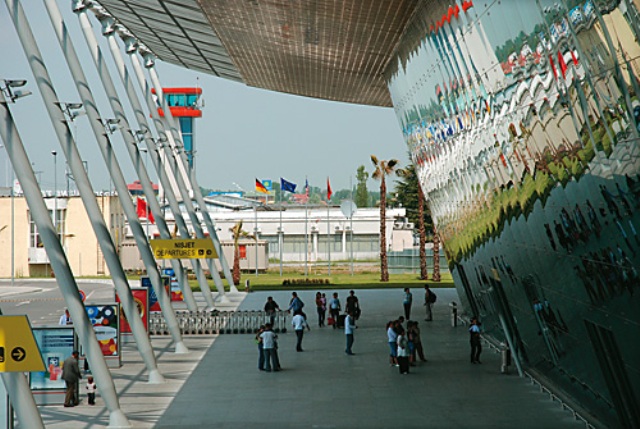 Concession Period for Tirana International Airport to be extended by two years. Kukës Airport to be opened to international flights. Green light for development of airports in Vlora and Saranda
Tirana, 1 April 2016/Independent Balkan News Agency
By Edison Kurani
Albanian Ministry of Transport and Infrastructure and concessionary authorities of Rinas "Mother Teresa" international airport, have agreed today on to sign an agreement according to which the airport's exclusiveness is reduced.
The amended Concession Agreement was signed on behalf of the Albanian Government by Mr Edmond Haxhinasto, and Mrs Milva Ekonomi, Minister of Economic Development, Tourism, Trade and Entrepreneurship, and on behalf of TIA by the Chief Executive Officer, Mr Rolf Castro-Vasquez, and Mrs Suela Keri, Chief Finance Officer.
Following intensive negotiations between the two parties, the Concession Agreement of TIA will be amended by the vote of parliamentarians reflecting changes that will give green light to the development, construction and operation of other airports in Albania.
This step is expected to give the green light to the functioning of other airports and airfields such as in Kukes and Saranda and the reduction of operation fees for companies that fly to Albania. This will automatically reduce ticket prices for passengers.
According to the mutual agreement, Tirana International Airport is immediately granted an extension of the Concession Period of two years for opening of Kukës Airport to international flights. This means that the Concession Period of TIA will be extended to April 2027.
In the case any other airport or airports become operational, such as Vlora or Saranda, the Concession Period of TIA will be further extended by half year for each operational year of these southern airports, as the amended Concession Agreement states.
Mr. Edmond Haxhinasto, the Minister of Transport and Infrastructure said that "This is a promise delivered by the Albanian Government which will enable the further development of this crucial sector to the economy. With the introduction of other airport operators we aim to benefit from the low-cost carriers entering our market, as well as invite investors to develop not only the southern Albanian airport but in parallel the tourism infrastructure with resorts and more."

Mr Holger Linkweiler, Chairman of the Administrative Council of TIA said that "This is a landmark achievement. We are proud of what all the partners in this long process have been able to accomplish. We would like to thank the Ministry of Transport and Infrastructure and the Ministry of Economic Development, Tourism, Trade and Entrepreneurship for their cooperation. We wish all the success to the Albanian Government in further steps toward developing other airports in the country. Tirana International Airport is committed to continue providing high standard services to air transport in Albania," he added.
In 2005, TIA took over Rinas Airport when it was serving about 600,000 passengers. In 2015, the Airport served more than 1.9 million passengers making a significant growth and as a modern gate for the country with highest European standards changing the image of Albania. Based on the Concession Agreement signed with the Albanian Government in 2004, the Concession Period of 20 years for managing Tirana International Airport started in 2005, including the exclusivity rights of international flights.
"Tirana International Airport has always been and will remain positive to contribute towards a better business environment and for a better economy and its social development. Since the beginning of operations as the management company, TIA has set new standards for air transport in Albania, with regard to both the quality of services and frequency of use of the Airport", reads TIA's statement. /ibna/