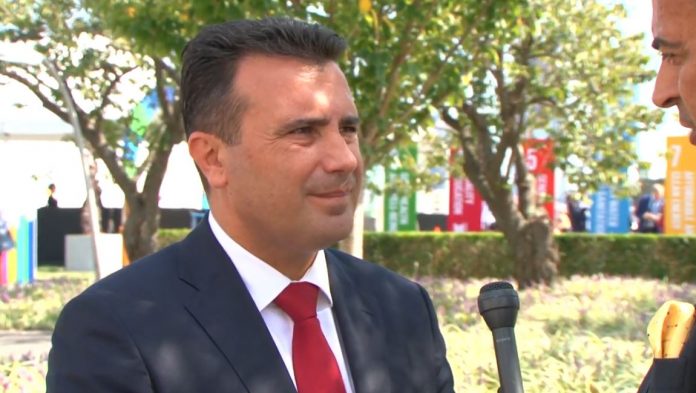 On the sidelines of the 74th UN General Assembly in New York, Prime Minister of North Macedonia Zoran ZAEV spoke exclusively to IBNA about his first meeting with the new Prime Minister of Greece Kyriakos Mitsotakis.
Prime Minister, how was your first meeting with the Prime Minister of Greece, Kyriacos Mitsotakis?
For me it is always a pleasure to meet with representatives of a friendly country, and Greece is a friendly country for our country. After the Prespes Agreement, we have the intention only to build friendship, to go for prosperity for both countries and of course I always use an opportunity to wish good prosperity, pleasure, satisfaction, a good life and good cooperation with the citizens of North Macedonia. We talked about the implementation of the Prespes Agreement, which is very important for both sides, because through the Prespes Agreement will very soon be very visible for both sides. There are obligations that we fulfill, some of which we fulfilled sooner than our obligation to prepare our citizens in the country and to show the citizens of Greece our really honest friendship. We talked about economic cooperation. I think even North Macedonia can be helpful for Greece, for the economic crisis in Greece, to get out of this crisis very soon. Why? Because, for example, countries like Netherlands have 60% of GDP from companies that work outside the country and bring dividends and profits inside. So why companies from Germany, France and Netherlands could come only to North Macedonia because of our low economic standards? Greek companies can make profits and be very helpful to the Greek economy, they are present now in Skopje and all other cities in North Macedonia, trying to find a way how to invest, how to increase trade. Now the results are very good. We finished 2018 with more than 20% increase of trade between our countries. We were one of the best supporters of tourism this summer in Greece. That is friendship and I know that every summer a lot of new friendships were born between our citizens and citizens from Greece. In this direction, we talked about all possibilities in front of us. Normally, I appreciate very much the politics of PM Mitsotakis. He takes care for the future of Greece, there are some open issues for Greece with Turkey, with Albania. Of course, they can count on our support always because we are a very friendly country.
Did you talk about your European path? About a decision on the 18th of October? Do you have the support of the Greek government?
Yes. That is not only part of an obligation, it is also a feeling from a friendly country to support its northern neighbor, normally, the Republic of North Macedonia. In this direction they were very pleased, dedicated and they will support us in the European Council. On this occasion, I share my feeling that Greece really needs to take the leadership of the Balkans, because Greece is the oldest EU member-country, the oldest NATO member-country. The government of Mitsotakis has this opportunity and normally they will develop their own policies. But, the feeling from me, the PM of North Macedonia, and other PMs and leaders of the region await leadership from Greece, because the 2003 agenda from Thessaloniki really started this encouragement for us, for an EU path. We are dedicated. In our country 83% of citizens are in favor of EU integration. So having this path in mind, normally, Greece will need to take their real place in the Balkans and Eastern Europe. There is an opportunity in front of us and I know that Greece will support us now in the European Council, so that we can get a date to begin negotiations with the EU./ibna