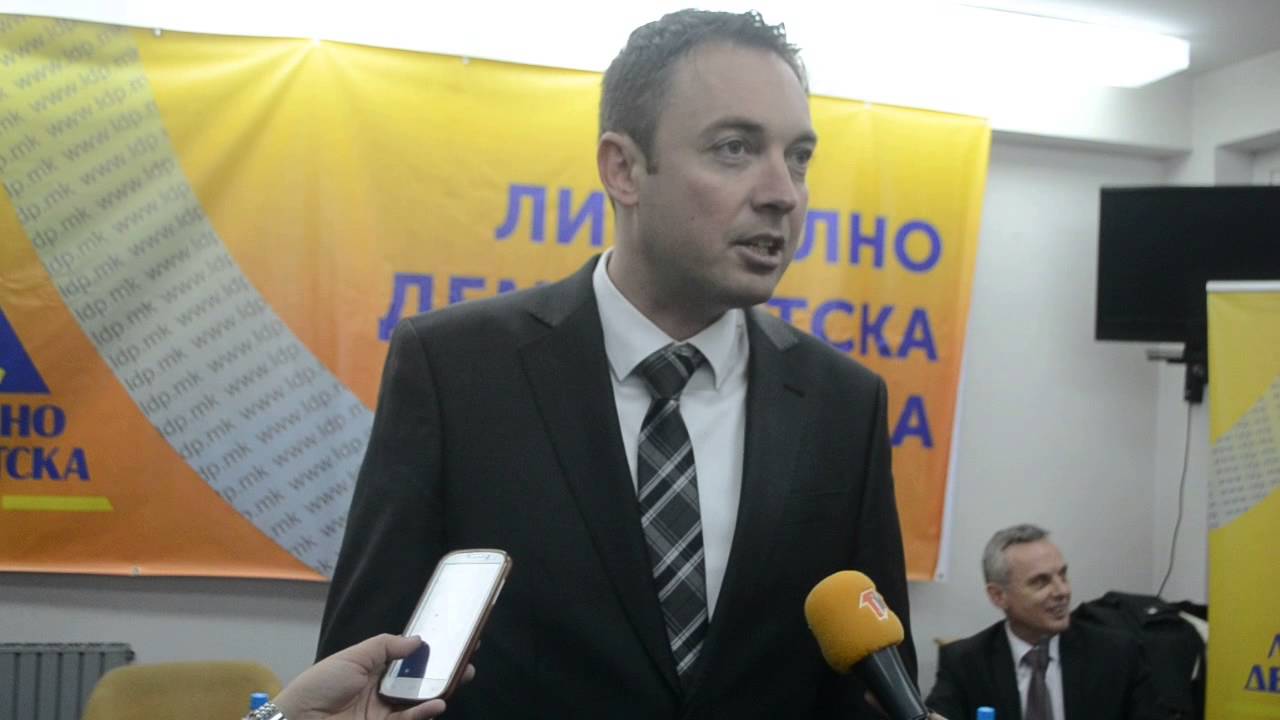 Milevski: Heads of VMRO-DPMNE want a crisis to save their skin
In this interview for IBNA (Independent Balkan News Agency), the leader of the Liberal Democratic Party, Goran Milevski talks about the political situation and the ways it can be solved. Milevski says that the political crisis has been caused by VMRO-DPMNE and underlines that the solution is being prevented by President George Ivanov. Milevski is optimistic that an end will come to this chaos and that new institutions will be elected by the new majority formed by the SDSM led coalition, where the Liberal Democratic Party is part. Milevski is one of the MPs of this coalition and along with Albanian parties, they make up for 67 MPs in a 120 seat parliament.
Interviewed by Naser Pajaziti
IBNA: The crisis doesn't seem to be ending. Who do you blame for this?
Milevski: It looks like this, but it will soon end. The fact that VMRO-DPMNE is unable to accept the results of the 11 December elections is the main reason for the current crisis. VMRO-DPMNE is convinced that it will not be able to form a government, but on the other hand, it doesn't want to end up in opposition either, after ten years of being in power. In fact, it's hard for the leading structures of this party to accept this, therefore resistance is being made in surrendering power. They are scared that they may be forced to be held accountable for all their abuses. This way, they are breaching the Constitution and laws in force with the sole purposes of evading justice. In their endeavor to escape justice, they came up with what they call "Tirana Platform".  Using a part of the media to misinform people, they are being imposed as the only saviors of the Macedonian national interests. But this is far from the truth and logic, because those who robbed and stole this country cannot be protectors and saviors. The only things that they're protecting are their millions benefited unlawfully and which they do not want to restitute.
IBNA: We have a Parliament that has been blocked and these delays may lead to chaos. Does your coalition with SDSM has a plan to find a prompt solution for the election of the Speaker of Parliament?
Milevski: There is a solution and this solution will comply with Parliament's rulebook and laws. VMRO-DPMNE's leadership, which has privatized this party and the institutions, is ruining the state with these behaviors. These institutions are not ready to protect constitutional and legal order in the country. As a party, we have a historical obligation and responsibility to defend the state from mob like criminal structures. We will do this as soon as possible.
Parliament's usurpers not only want to block the election of the speaker of Parliament, but they don't even want this institution to function and to be constituted. They want a crisis, because when Parliament is unable to function, the President is entitled to announce extraordinary elections. In such circumstances, without Parliament's approval, Ivanov may elect a new government. This is a dangerous game and we warn them that if they implement such scenarios, there will be fatal consequences for them and the state. The best solution is for MPs to understand how serious this situation is, leaving personal and political interests aside and allow a normal functioning of Parliament. Of course, our patience is being abused with, but it will not last forever. There are legal mechanisms which enable the election of the speaker of Parliament.
IBNA: VMRO-DPMNE is mentioning the so called Tirana Platform, which was denied by Albanian parties, but also by Tirana. What is your stance on this issue?
Milevski: In these elections, Albanian citizens punished the two dominating Albanian parties, for being disappointed from their policies. Albanians in Macedonia voted for a better living, for higher salaries, for better healthcare services, education and for acceleration of Macedonia's integration in the NATO and EU.  That declaration of Albanian parties, which VMRO-DPMNE has called Tirana Platform, there are very constructive requests and solutions. Thus, we cannot reject the request for the Special Prosecution to continue with its work or the process of Euro Atlantic integrations. But there are several strange requests that do not seem to coincide with the current situation and needs of Albanians in the Republic of Macedonia. Time will show if they have intentionally been incorporated there. For instance, we have a request to approve a resolution of genocide committed in 1912. I don't see how this request will manage to improve the living standards of people who live in Macedonia today. In these elections, Albanians  voted against the "genocide" committed toward people from 2006 until 2016. Mass emigration of Macedonians, Albanians, Turks and other communities that live in the country, has become worrying. Our party's policy is to stop emigration and start a process to bring back migrants to their country. To go back to what I said above, the voting of a resolution would not address current problems, therefore some of the requests of the so called Albanian Platform aims at focusing the attention away from the vital problems that people have.
IBNA: How do you consider the role of the president of the country, George Ivanov, who is not mandating the social democrat leader to form the government?
Mileksi: Up until 2006, power could be handed over in normal condition, but now it's mission impossible. Therefore, PLD has contested and condemned the decisions made by president Ivanov. For us, Ivanov's election as president was a disgrace, therefore we propose for the next president to be elected in parliament with 2/3 of the votes. This way, party militants such as Ivanov will not be able to be elected in the post of the president. With this, Macedonia will finally have a president elected in a legitimate way, who would not be contested by anybody. Ivanov's latest decision not to mandate Zaev is against the Constitution and with this, he's not respecting the will of the majority of citizens. With this, he is not recognizing the election results, he's ruining institutions and is preventing the division of power. Such crisis was also seen in England during the time of Queen Victoria in 1893, when it was made impossible to hand over power. I don't know how history will write the solution of this crisis here, but I know that Macedonia is not a kingdom and Ivanov is not a king. Therefore, I can say that it's clear that Ivanov is living in the wrong century.
IBNA: Are the protests which are being held part of a political agenda?
Milevski: It is clear that VMRO-DPMNE is behind these protests and they are similar to the civil protests that we saw with the Colored Revolution. In these protests we see party activists participate and some common people who are worried about the news that media is spreading on a daily basis that the state is in danger. In these protests we see an attempt to escape justice. They are not protests which aim at saving Macedonia, but save several people from prison.
IBNA: What would be an urgent way out of this crisis?
Milevski: A reformatory government! This would be the only way out of the crisis. Therefore, a government must be formed as soon as possible with a clear mandate for crucial reforms. The abuses of the previous government should be abused and a system which holds politicians accountable must be installed. This will have a vital importance to restore trust on institutions and on politicians, who up until now have been labeled as criminals. Only those who work for the citizens must have a place in politics. We must be engaged for independent institutions, which will fight crime and prevent such acts in the future. We need urgent reforms in the judicial system to prevent any influence from politics or businesses. Our engagement is to unblock parliament, elect the speaker of Parliament and the new government and work in order to solve the problems of the citizens. /balkaneu.com/