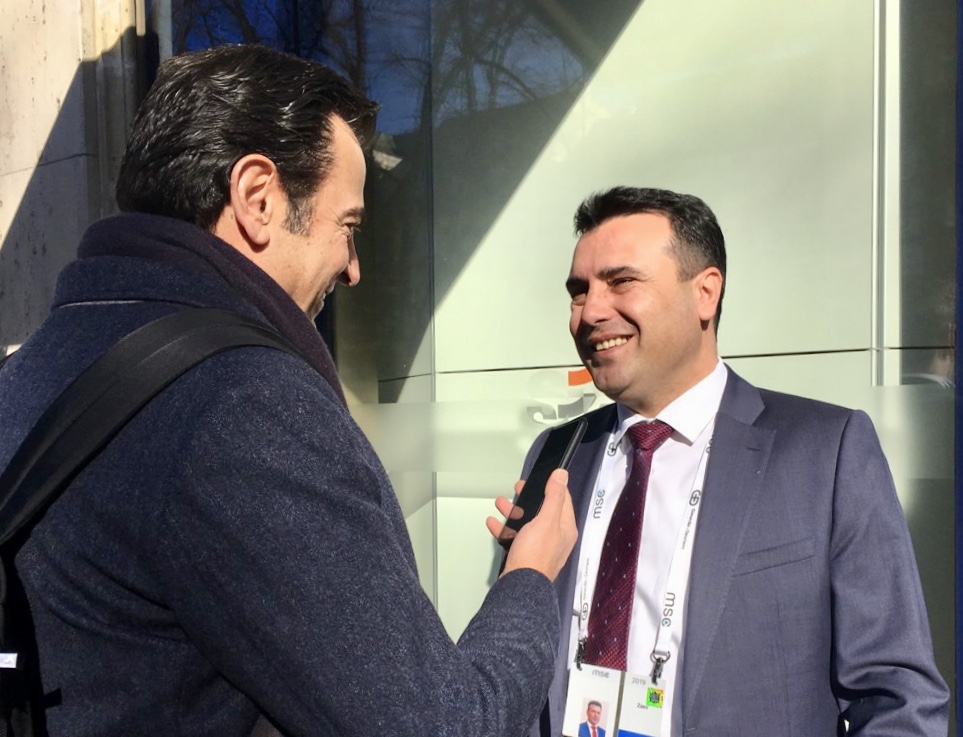 On the sidelines of the Munich Security Conference, North Macedonia Prime Minister Zoran Zaev spoke exclusively to IBNA about his feelings after the end of the ratification of the Prespa Agreement, his award with his Greek counterpart Alexis Tsipras with the Ewald von Kleist Prize, the building of friendship and cooperation between Greece and Northern Macedonia, the first visit to the Skopje of the Greek Prime Minister in Spring and his own visit to Greece with the government plane, which will bearing "Republic of the North Macedonia ".
It is a great time for North Macedonia, with the Prespes Agreement and becoming a new NATO partner. You are here in Munich to receive the award Ewald von Kleist Prize. How do you feel?
It is a great honor for us. Like we've mentioned before, nobody believed this was possible, but I am living one of my life's dreams, to have a new friend in Greece. Greece was friendly before, but now I really am a friend of Alexis Tsipras. We have the great honor to receive this award from the Munich Security Conference, one of the highest conferences in the world. It is an great to be a positive example, to show the rest of the world that through the European manners and behaviors, it is possible to achieve agreement even in this kind of sensitive issue, such as the name of a country, separation of identities of both countries, and in a friendly way how to build a friendship for the future and open doors for the next generation, for our children.
It is very important that the world admires us, because we achieved this agreement which was not easy in Greece and it was not easy in North Macedonia. We believed so much that it will bring only positive things for both nations, both countries. Now we are very motivated to implement this agreement.
We are officially North Macedonia, we changed a lot of symbols in our country, all around the country and of course we await the first visit of Prime Minister Tsipras, probably in March or April, whenever it is good for him. After that I will visit Athens, which is very good because I am very often in Thessaloniki, I will be in Thessaloniki even earlier for sure. But I will arrive for the first time in Athens, probably with the government plane bearing the name Republic of North Macedonia, to show our Greek friends from north Greece, from Greek Macedonia, that we keep the agreement, we follow the agreement and want friendship with our southern neighbor, and of course we intend to develop a lot of projects in energy, infrastructure, opening new border crossings to make it easier for our citizens to go to the Aegean sea and for Greek citizens to come to our country to develop some businesses.
I am very happy because we finished 2018 with a 19% increase in trade between our two countries. So, there are benefits even now. In the future there will be more./IBNA