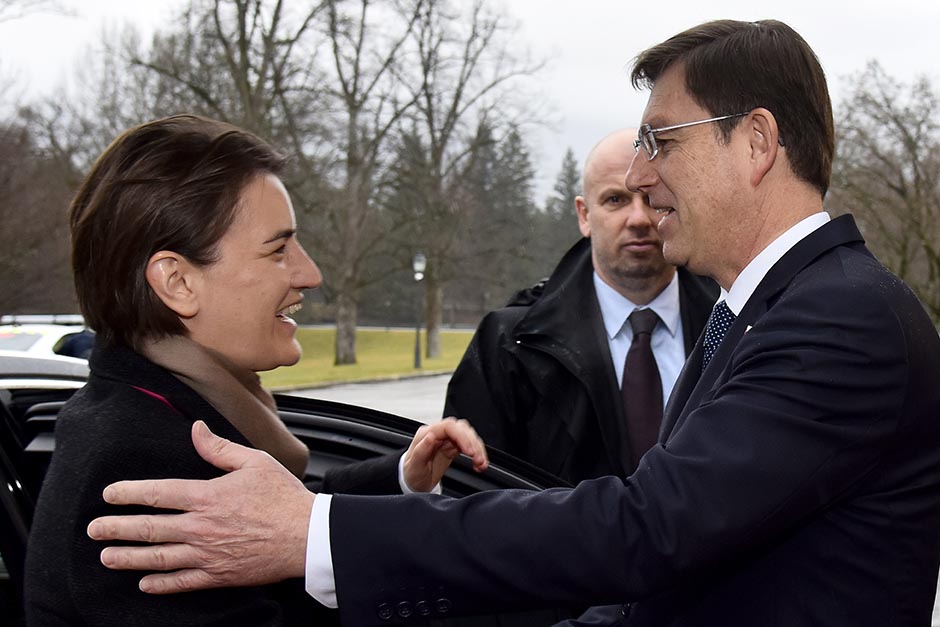 Serbian and Slovenian governments have held a joint session in Brdo kod Kranja, Slovenia, on Thursday, February 1st. Slovenian prime minister Miro Cerar has stressed that bilateral relations between the two countries are good, while his Serbian counterpart Ana Brnabic thanked him for the Slovenian support in the process of Serbia's accession into the European Union.
Slovenia will continue "intensively and firmly" to support the European perspective of Serbia, Cerar said at the joint press conference with Brnabic. "Slovenia does it (supports Serbia) in two ways – by assisting (it) within the European institutions, and through the technical help. Since September 2015 we have been offering Serbia complete assistance in the domains that accession talks encompassed", Cerar underlined.
He expressed his expectation that Serbia will continue its reforms and assessed that the previous Serbian efforts had "demonstrated favourable financial and economic results". "I congratulate the government and all others in Serbia, and we wish that this successful development is continued", Cerar said.
Ana Brnabic has said that Serbia and Slovenia have "excellent relations", both political and economic. She thanked Cerar for the Slovenian support in the EU membership negotiations process.
She said that her personal communication with Cerar is "very good".
The Serbian premier has emphasised the importance of the regional cooperation for her country; "it (regional cooperation) is among the top priorities of Serbia", Brnabic noted.
Does Vucic cancel his visit to Zagreb?
To illustrate her claim, Brnabic said: "Today, the Serbian president Aleksandar Vucic is in Austria; on February 12 and 13 he will visit Croatia. We are here today, and next week we will go to Hungary… I will soon visit Montenegro, and I have permanent communication with the Bulgarian prime minister Boyko Borissov. That is what is important to us, and in that sense we recognise the important role of Slovenia".
However, statements of some Croatian and Serbian officials have left an open question of whether Vucic will cancel his visit to Zagreb or not; a trip which he agreed with his Croatian counterpart Kolinda Grabar Kitarovic earlier this week. Namely, Damir Krsticevic, the Croatian defence minister, said that Vucic should apologise for "war crimes" before the visit.
Krsticevic's Serbian counterpart Aleksandar Vulin reacted by recommending to Vucic to cancel his visit.
In 2017, Vucic had postponed his visit to Croatia due to tense bilateral relations…/IBNA
Photo: Tamino Petelinsek / Tanjug