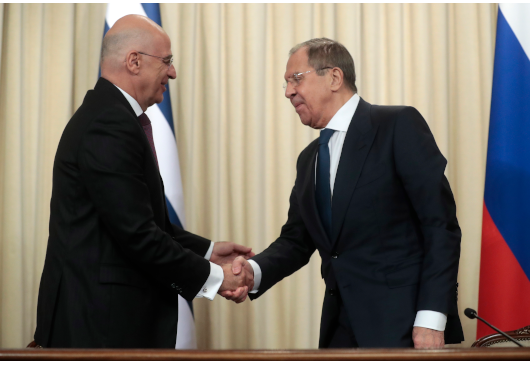 The meeting between Greek Foreign Minister Nikos Dendias and his Russian counterpart Sergey Lavrov took place in Moscow at a very good atmosphere.
The two men had enough time in their têt-à-têt meeting to discuss a range of bilateral and regional issues, exploring the conditions for restarting bilateral relations.
In the joint statements following the broadened discussions between the two delegations, Nikos Dendias pointed out that Greece's position is not only in favor of improvement, but also in favor of enlargement and expansion of the Russia-Greece dialogue.
Russia is part of the European security architecture, the Greek Foreign Minister continued, stressing that Greece is capable of being particularly useful to Russia if it deems it, in order to resolve existing disputes and the understanding of measures that need to be taken, for the purpose of total normalization and to overcome unpleasant realities.
He also invited Russian investors to seize the opportunities of changing the investment framework in Greece, while welcoming the further deepening of energy cooperation between the two countries.
For his part, the Russian Foreign Minister expressed his concern about the situation in the Eastern Mediterranean and in particular about US and NATO actions, with the stepping up of their military presence in the region.
Concerning developments in energy fields in Cyprus' EEZ, he called on all countries in the region, namely Turkey, Cyprus, Greece, Israel and Egypt, to resolve the issues raised through dialogue and in accordance with the Convention on the law of the sea.
Sergey Lavrov also referred to two issues that burden the two countries' relations. On the extradiction of Alexander Vinnik, known as Mr. Bitcoin, who is being held in Greece and pending the requests of Russia, France and the US, he expressed his assessment that the Russian request comes before the others. He added that based on changes to the Greek penal code, the charges against Vinnik are no longer an offense and expressed hope that a fair outcome would be achieved.
For his part, the Greek Foreign Minister said, inter alia, that the matter was up to the Greek judiciary.
On the issue of the recognition of the Autocephalous Church of the Ukrainian Church, the Russian Foreign Minister hinted about an "obvious external influence", connecting Pompeo's visit to Athens with the recognition of the Autocephaly by the Greek Church.
Although Sergey Lavrov said that the meeting confirmed that states should not interfere in church matters, he noted that there would be a reduction in tourist flows of Russian pilgrims to areas of Greece where the Russian church interrupted "Communion"./ibna