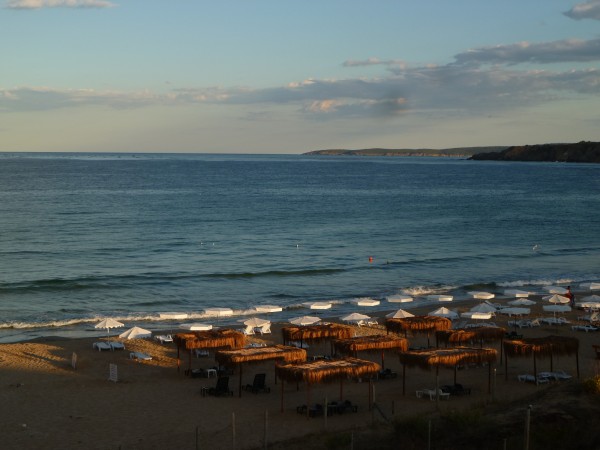 By Clive Leviev-Sawyer of the Sofia Globe
The summer tourist industry in Bulgaria is eyeing the 2014 season with concern, given the factors that could hamstring it – everything from the war in Ukraine to the rainy weather earlier in July to the overall difficult domestic economic situation.
On the eve of August, there were forecasts that at least the weather would continue to improve, after recent days brought almost continuously sunny weather to the beaches of Bulgaria's Black Sea coast.
One long-range weather forecast said that August 2014 would see mainly warm and sunny weather in eastern Bulgaria, location of the seaside resorts, while there could still be regular rain and thunderstorms in western Bulgaria throughout the month.
Roumen Draganov, head of the Institute of Tourism Analysis and Assessment, said on July 31 that the domestic political and economic situation was having a negative effect on local tourism.
For instance, the suspension of the activities of Corporate Commercial Bank had prevented companies and individuals being able to access their accounts with the bank, hitting salary payments.
Draganov said that initial projections for the 2014 summer tourism season in Bulgaria had been for growth on an annual basis of about three to four per cent, but recent figures showed that the increase in tourists might, by the end of the season, be no more than two per cent.
There was a more positive view from Blagoy Ragin, head of the Bulgarian Hotel and Restaurant Association, who told public broadcaster Bulgarian National Radio that repeating the results of 2013's summer tourism season would be a major success.
Ragin said that 2014 was not the first year that Bulgaria's tourism industry had problems at the start of the summer season but then was able to make up for lost time.
There have been conflicting reports on the impact from the Ukraine crisis on the number of Russian tourists coming to Bulgaria.
Some reports have claimed that Russian tourist numbers in Bulgaria are largely unaffected, while other reports have seen reduced numbers of Russians – with their domestic economic downturn affecting travel – while in turn, the decrease has been made up by increases in the numbers of Moldovans, Romanians and indeed Ukrainians visiting Bulgaria.
Earlier in 2014, Bulgaria's Foreign Ministry reported an increase in the number of visas issued in embassies and consulates in Russia and Ukraine.
The airports in Bulgaria's Black Sea cities of Varna and Bourgas also have reported improved business, although it remains an open question how beneficial this is to the hotel and restaurant business, given that many visitors are arriving only to go to real estate that they own along the Bulgarian Black Sea coast.
On domestic tourism, Ragin noted – becoming the latest to do so in a succession of such commentaries in recent years – that a significant number of Bulgarians continued to prefer to holiday in neighbouring countries Greece and Turkey.
On July 21, local media reports noted that while it was practically peak season, prices at some of Bulgaria's Black Sea resorts were being decreased.
Along the northern Black Sea coast, every fifth holiday accommodation bed was empty and many hotels were offering 50 per cent discounts to attract custom, reports said.
At the same time, at that stage resorts on Bulgaria's southern Black Sea coast were bursting with people and from mid-July, finding a vacant room was "absolutely impossible" – but against all logic, from the beginning of August, the number of vacancies was increasing.
By late July, for instance, at Balchik on Bulgaria's northern Black Sea coastline, hotel occupancy was 75 per cent at the most, while at the same time in 2013 it was 85 per cent.
Reports from the Black Sea coast said that tourism had been discouraged by a number of factors, including the deadly floods that hit parts of the coastline in June.
On top of the reduced numbers of Russians, numbers of Western tourists also were down, reports said. Factors that influenced a decrease in 2014 in the number of Western tourists during June-July were said to include the football World Cup, either because people stayed in their own sitting rooms at home to watch it, or some lashed out the money for the trip to Brazil.
 (Photo (c) Clive Leviev-Sawyer)