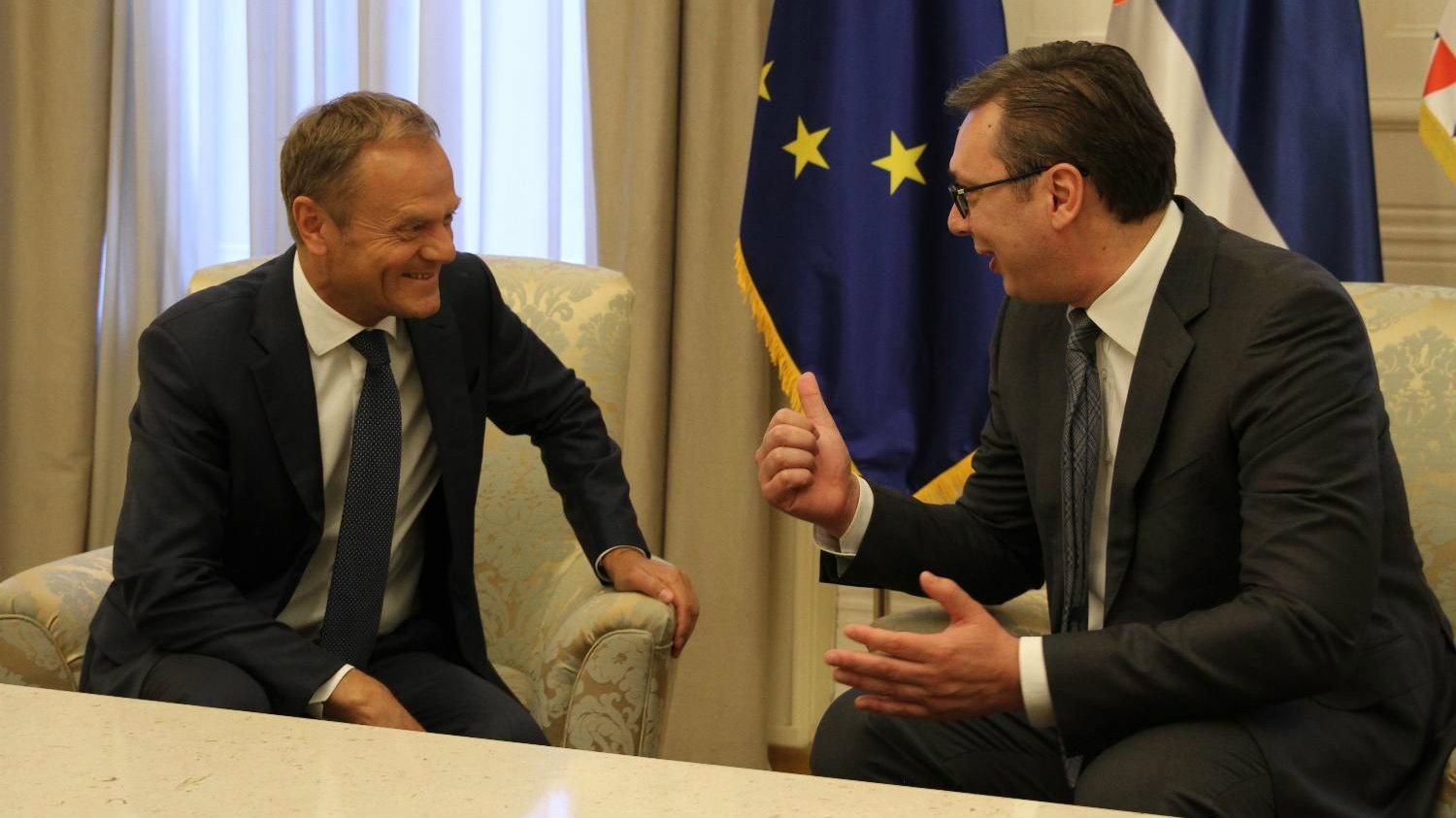 Donald Tusk, the president of the European Council, was the second Brussels' politician in a row who profusely praised the Serbian head of state, Aleksandar Vucic, this week. On Tuesday, the Belgian prime minister Charles Michel called Vucic a "key factor" in the region, telling him at the press conference: "you are extraordinarily important for the future of Europe and the EU". On Wednesday evening, again at the press conference with Vucic, Tusk said that "it is impossible to find a greater Serb than him".
While Serbian media have been reporting about pressures of the European powers on the countries that could possibly decide to withdraw their Kosovo independence recognition, Tusk has underlined that Serbia is going to make its choice over the European Union and Kosovo on its own.
Tusk: It is impossible to find a greater Serb than Vucic
"Many times throughout history you have proven how stubborn and independent you are and that you decide on your destiny alone; I know that you will not let this to be changed", Tusk said in Serbian.
In his words, "the whole world is aware that the Serbian future is not going to be decided neither by Moscow nor Washington, but also neither by Ankara nor Brussels".
Tusk claimed that the main purpose of his visit to Belgrade was the preparation of the EU-Balkans summit in Sofia, in May.
"At our summit in May we will recall on our readiness to work on the European perspective of the region. I don't like propaganda and I know that you hate when somebody tells you what to do".
Tusk also referred to Yugoslav history.
"As a Pole grown up in the communist era, I remember how we have admired your courage. We have been the part of the same block, but you had wider political independence. In my generation still lives a legend on your heroic and successful resistance during the Second World War; as a Pole I know very well what I am talking about. Since then, Germans also know that it is better to be on your side".
Tusk, a former prime minister of Poland, praised Aleksandar Vucic without restraints, calling him "a Serb made of flesh and blood". "I think that it is impossible to find a greater Serb than him. I recognise my soulmate in him; I also used to be a football fun. We both know that sometimes, in life and in politics, you have to agree", Tusk said.
Vucic is, he went on, the evidence that one can be a great patriot and a rational pragmatist at the same time. "Your president is the initiator of the ambitious vision of economic interlinking of the region. Thanks to his vision and firmness, the summit in Sofia will be also committed to the strengthening of the economic co-operation", Tusk said, recalling that the EU is Serbia's biggest investor, donor and trade partner.
"I would like to thank Aleksandar Vucic for his personal efforts with regards to the dialogue with Pristina. I know that this is a difficult issue which bears strong emotions, but strategic choice will pay off in the end", the EU official stressed.
Vucic: Humiliation is unacceptable
If the Kosovo issue is not adequately resolved, it would undoubtedly become an obstacle in the European path of Serbia, Vucic said at the press conference. As he noted, he showed Tusk the Brussels agreement between Belgrade and Pristina "and everything Serbia has done".
Vucic reiterated that it was important to reach a compromise.
"Serbia has delivered everything (all things agreed); we believe that it is important to find a compromise solution. I'm not too optimistic, but do we have the right to give up, not to hope and not to look forward to a solution? No, we don't", Vucic said.
At the same time, the president added that "humiliating Serbia" is unacceptable.
"I told Tusk that we can accept any kind of compromise, but we cannot accept the humiliation of Serbia. This country has never allowed such things, so it will not allow it in the future either", Vucic stressed.
"Threats" by France and the United Kingdom
In the main stories on Thursday, the Serbian press reports on alleged pressures by France and the United Kingdom on countries which could withdraw their recognition of Kosovo's independence. According to Politika daily, France would send diplomatic démarches to every country that would decide to withdraw its recognition. "Paris threats everybody who is on our side", Vecernje novosti daily reports.
The Serbian tabloid Telegraf speaks of "horrifying threats by the Englishmen".
"Everybody who helps Serbia will be destroyed", it reads, explaining that Foreign minister Ivica Dacic has revealed that "a United Nations Security Council permanent member will send harsh protest to every country which withdraws its Kosovo recognition"…. / IBNA