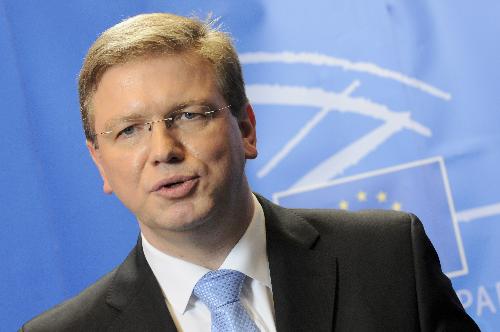 Review by Christos T. Panagopoulos
Stefan Fuele, the European Enlargement Commissioner is going to pay a two-day visit in Belgrade, in order to inaugurate Serbia's entering to accession talks with the European Union, after decision was made on June 28th.
According to Tanjug News Agency, Fuele's visit will be a symbolic prelude to the beginning of a comparative analysis of the compliance of Serbia's legislation with the body of European Union law, the so-called screening of the acquis, which will officially start in September or October.
"The decision to open accession negotiations is a major achievement for the Serbian leaders and rewards persistent efforts over the last decade. These efforts need to continue: the negotiations process is demanding and takes years. I look forward to opening a whole new phase with Serbia now," the website of the EU Delegation to Serbia quoted Fuele as saying.
According to Fuele, "The European integration process will also from now on become increasingly tangible for the administration, civil society, business people, students, researchers and for Serbian society at large, truly for all citizens of Serbia, in many aspects of their daily lives."
Fuele will be accompanied by European Commission officials who will help Serbian authorities to get acquainted with the negotiations process.
Source: Tanjug