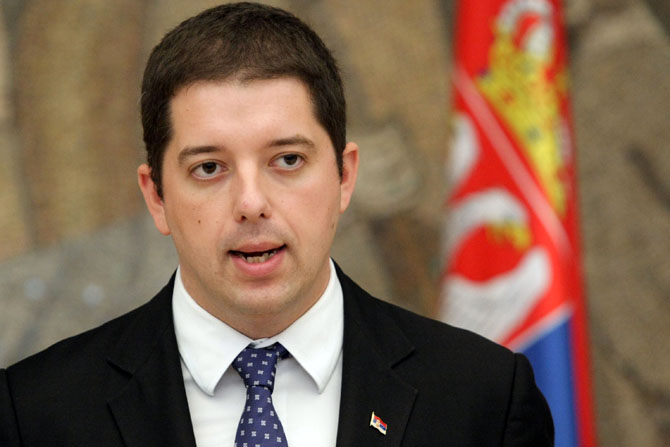 Belgrade, October 5, 2016/Independent Balkan News Agency
By Milos Mitrovic
Serbian prime minister Aleksandar Vucic has, as he said, received "a paper on which we have to come out, and which is not negotiable" – obviously the European Union document on Belgrade-Pristina talks. Vucic did not openly said that the document was issued by the EU, but he has admitted that "new chapters" in Serbia-EU accession talks would not be opened if Serbia rebuffs that paper. The document tackles the issue of property in Kosovo in the telecommunications domain.
Earlier today director of Serbian Office for Kosovo and Metohija Marko Djuric (photo) said that Belgrade was faced with an "ultimatum", a choice to accept it – otherwise, Serbia cannot count on "Eurointegrations and chapters opening".
Djuric said that he was convinced that Serbia cannot accept an "ultimatum". But Vucic criticized him saying that an "ultimatum" was not the proper word.
Djuric also avoided to mention EU directly. "It is wanted that we should give up from 'Telekom Srbija' and accept that all our property in Kosovo and Metohija belong to the institutions of false, illegal state in Pristina", Djuric said.
He specified that Belgrade should come out until Sunday. Djuric announced that if Serbia accepts EU demands, he would resign. "We have to protect our state and our property regardless of pressures", he went on.
In his words, giving up from 'Telekom Srbija' would be the "first step", since after that the Serbian property in the energy domain would be "stolen in same manner".
The document appeared in the "last two-three days as direct part of both talks from last week in Brussels and talks which prime minister had with different international officials", Marko Djuric claimed.
"I would not say this is ultimatum, it's about talks we had in Brussels", Vucic told journalists reacting to Djuric's statement. But premier admitted that Serbia "is always faced with political preconditions, always about Kosovo and Metohija", adding that such preconditions have not been imposed on other candidates for EU membership. "If we refuse, they will not open the chapters", the PM concluded.
Vucic said that Djuric has put him "in a most difficult situation". "If we accept it (EU document), it would turn out that I have made a decision against my own people; if we don't accept it, we would be directly responsible for a possibly difficult political situation", the Serbian premier said.