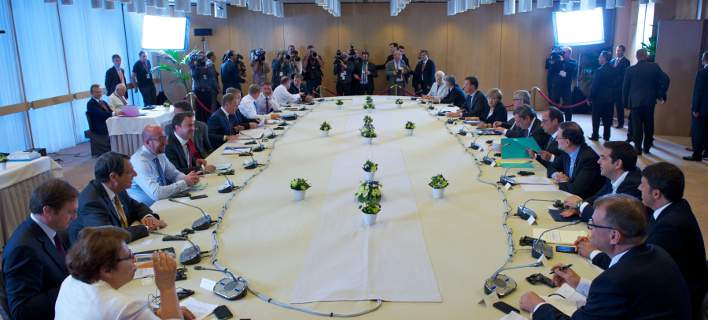 Athens, July 8, 2015/ Independent Balkan News Agency
By Zacharias Petrou
Greek Prime Minister Alexis Tsipras took his proposal for a last-minute deal to avert Greece exiting the eurozone to an emergency EU Council meeting in Brussels on Tuesday.
The new Greek Finance Minister, Euclid Tsakalotos, presented his plans which contain reforms, funding, an investment program as well as debt restructure. However, a formal, written proposal was not submitted by Tsakalotos.
Government sources said Greece will tomorrow present the "common ground" for a viable agreement, considering the result of the referendum, the common positions of the political leaders and the proposals of the institutions.
According to the same sources, in the meeting between Tsipras, Merkel, Hollande and Juncker the road map was discussed in order for a result to be achieved.
The proposal of the Greek side is for an "adjustment" by the end of the month in order to prepare a "larger sustainable agreement" during this time. Essentially, Greece has proposed to split the deal with creditors into a short-term and a long-term agreement, both accompanied by prior actions mostly in line with the proposals rejected by the Greek people in the referendum.
A key issu for Greece is that perhaps a pledge on debt relief will be included in the final agreement. Also, the European Central Banks could save the Greek banking system from collapse if a deal is in processing. Funding could be released immediately if Greece accepts and passes budgetary measures, allowing the country to repay the IMF and ECB in July.
Alexis Tsipras also met privately with the leaders of Germany and France and European Commission president Jean-Claude Juncker just before the EU Summit.
German Chancellor Angela Merkel revealed that the Greek PM will be presenting proposals for a new program that will accompany a new loan by the European
Stability Mechanism. This will be submitted by Thursday. A new EU Council meeting will discuss the proposals in detail on Sunday.
Alexis Tsipras said after the meeting of Eurozone leaders that he submitted proposals that aim to deliver a "socially just and economically viable agreement". They included "credible reforms", in return for funding commitments.
We had a "positive" discussion, he said, and the target is to conclude the process by the end of the week at the latest. Our aim, Tsipras added, is to achieve a "final exit from the crisis".
The message from the Eurozone however was loud and clear. If a deal is not found by Sunday, Grexit will follow. "We have a Grexit scenario, prepared in detail" European Commission President Jean-Claude Juncker said. "Until now i avoided talking about deadlines, but tonight I have to say it loud and clear – the final deadline ends this week" EU Council President Donald Tusk said.