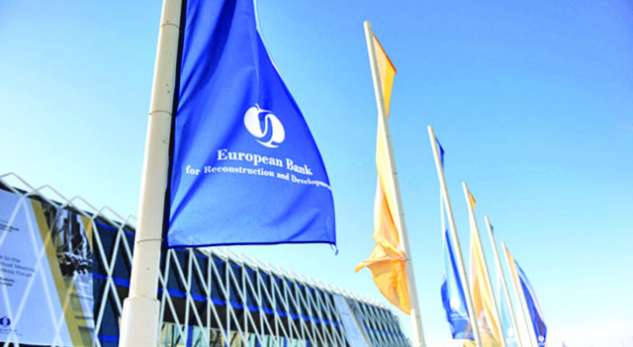 EBRD economic outlook sees signs of recovery in south-eastern Europe
The outlook for economies in south-eastern Europe (SEE) is improving on the back of monetary easing in the eurozone, the weaker euro and lower commodity prices as domestic policy factors become increasingly important, according to the EBRD's Regional Economic Prospects report released today.
After a difficult 2014 the report sees SEE growth picking up to 2.3 per cent in 2015 and then further to 2.8 per cent in 2016. However, high levels of non-performing loans (NPLs) and uncertainties surrounding Greece present considerable risks to economies in the region.
Quantitative easing by the European Central Bank has allowed easier monetary conditions in countries with close economic ties to the eurozone. However, the eurozone's prospects could be dampened by volatility related to Greece.
In the Western Balkans, the FYR Macedonian economy is continuing to grow at the fastest rate in the region. GDP is expected to expand by 3.5 per cent this year and by another 3.7 per cent in 2016. Downside risks mainly stem from internal political disputes.
Albania's macroeconomic performance benefited from the IMF arrangement in 2015. However, severe floods hitting the country earlier this year, high-levels of NPLs and negative spillovers from the Greek economic crisis remain key risks. The EBRD's economic outlook sees improved growth of 3.0 per cent in 2016 after 2.5 per cent in 2015.
Despite a challenging economic environment, the growth in Bosnia and Herzegovina is expected to speed up in 2015, with expansion of 2.5 per cent. Further growth of 3.0 per cent is seen next year with large projects in the transport and energy sectors in the pipeline and a more positive eurozone and regional outlook as the main growth drivers.
Montenegro's economy, which grew by a disappointing 1.5 per cent in 2014, is expected to see a pick-up in 2015 to around 3.0 per cent and to 3.7 per cent next year. Montenegro is expected to benefit from a major Chinese-financed highway project and by a revival in tourism receipts.
A major accident in the power industry and political uncertainty both affected the economic situation in Kosovo in 2014. Prospects for 2015 are somewhat better as the political uncertainty that dominated most of last year has been resolved. However, confidence and investment remain subdued. As a result the EBRD revised down its forecast for 2015 to 2.5 per cent, from 3.5 per cent in January. Expansion of 3.5 per cent is seen for 2016.
Despite challenging economic conditions ‑ the aftermath of major flooding and newly implemented austerity measures under an IMF programme ‑ Serbia is likely to see a modest recovery of 0.3 per cent in 2015, after its recession in 2014. However, credit growth may still be held back by high levels of non-performing loans. Expansion of just below 2.0 per cent is expected in 2016 with the successful implementation of the macroeconomic programme, further monetary easing and improvements in the business environment.
The EBRD's latest Regional Economic Prospects report predicts overall stagnation in 2015 across all 35 countries covered and meagre expansion of just 1.4 per cent in 2016. But this outlook masks stark regional differences.
"This is a very diverse picture," said acting Chief Economist Hans Peter Lankes. "There is definitely scope for optimism especially in countries closely tied to the eurozone. But the Russian recession is cause for concern in many other economies."
In central Europe and the Baltic states (CEB), forecasts for Poland, Slovenia, the Slovak Republic and Hungary have been revised up, mainly reflecting optimism linked to eurozone monetary easing that has added to the earlier positive impact of lower oil prices.
The CEB region is expected to see growth of 2.9 per cent in 2015, compared with a January forecast of 2.6 per cent. Expansion of 3.0 per cent is seen for 2016. Economic convergence with more advanced countries is set to continue in earnest, the report said.
Countries in the southern and eastern Mediterranean (SEMED) have also been aided by cheaper oil and by improving confidence in the region's largest economy, Egypt.
In contrast to the recent launch of monetary easing in the eurozone, an expected tightening of monetary conditions in the US, widely seen now as starting early next year, will put increasing pressure on emerging markets that are dependent on capital inflows and have high dollar denominated refinancing needs.
At the same time, the deep recession in the Russian economy is having larger-than-expected negative spillover effects on countries with which it has strong economic links.
The impact of the Russian downturn has worsened the outlook for eastern Europe and the Caucasus and for Central Asia.
Russia itself is expected to suffer a significant recession with the economy shrinking by 4.5 per cent in 2015 and by close to 2.0 per cent in 2016. The country may face a protracted period of slow growth or stagnation. Low oil prices and sanctions have taken their toll on an already-weak economy with deep-seated structural problems.
In Ukraine, the economic disruption in the east of the country, the negative impact of the depreciation of the hryvnia, tight economic policies, energy tariff hikes and a continued contraction of credit are expected to maintain pressure on the economy this year.
GDP is now expected to shrink by 7.5 per cent this year – a worsening of the outlook since January, when a 5.0 per cent contraction was forecast.
Assuming that the security situation does not deteriorate, the IMF programme remains on track and other significant risks do not materialise, Ukraine is likely to register a recovery of around 3 per cent in 2016. Faster and successful reforms and abatement of the geopolitical risks may improve the growth outlook.
Growth in Georgia is expected to decelerate to 2.3 per cent in 2015 and 2.6 per cent in 2016. Belarus remains under major financial stress, with the forecast revised down to show a contraction of 2.5 per cent on current policies and stagnation in 2016 in the absence of any significant economic reforms.
The most tangible impact of the Russian recession is in remittances home which are continuing to decline at an alarming rate.
The return of hundreds of thousands of migrant workers to Tajikistan and Uzbekistan and in significant numbers to the Kyrgyz Republic is proving to be a major economic and social challenge. Growth prospects in Kazakhstan and Turkmenistan are being negatively affected by lower commodity prices.
In Turkey, which last year became the largest single recipient of EBRD investment, growth will remain broadly unchanged at 3 per cent in 2015 and 2016, significantly below the country's long-term potential.
Turkey was a specific example of a country caught in the cross currents of diverging monetary policies in the eurozone and the US. Turkey's competitiveness with the eurozone would be squeezed while its borrowing costs and pressures for capital outflows would increase as US monetary policy tightens.
Greece, the EBRD's newest recipient country, has been badly hit by fears that it may default on its external debt obligations and even exit from the eurozone.
The EBRD's base case scenario is that Greece will "muddle through", avoiding drastic policy moves and with just enough reforms to start growing and securing the continued support of the international community. /ibna/