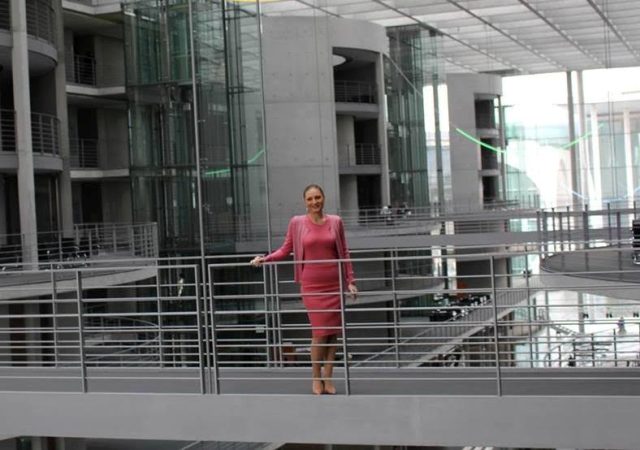 Tirana, 9 May 2016/Independent Balkan News Agency
On 9 May, known as Europe's Day, Minister of Integration, Klajda Gjosha launches a strong appeal for the Albanian politics, demanding for it not to act as an obstacle.
Gjosha says that the process of integration must be above the interests of the political class and adds: "This is a process which belongs to neither the left, north the right, but to all Albanians, which this May 9 would find them a step closer in this path which has started".
The minister says that this May 9 should have found Albanians with an approved reform in the judiciary system, with the trust on the rule of law restored, with more hope on progress and with another achievement that helps integration.
At this point she addresses a question as to whether "we have a reason to celebrate this anniversary of the establishment of the European Union?"
The minister is optimistic because she believes that Albanians do have a reason to celebrate, focusing on youth. "Young people do have a reason to celebrate, because they are as much integrated as their fellow peers in other EU member countries. Today's young people are the best model of a promising future. The achievements that the country has had in these 25 years, the changes in mentality, the progress that has been made, gives us reason to celebrate, because in every part of it, Albania is different".
The minister says that beyond the slogans which join all policy makers of this country, the actions that encourage the integration of Albania not always help the integration process.
"Today, the bells of May 9 must ring for the political class in Albania. These bells must remind us that the Albanian citizens have put their faith on us, that they have elected us and that we owe them", Gjosha says.
She admits that this is an obligation of this political class, therefore she appeals for Albanian political class to put an end to this gridlock and give way to the key integration reforms in the framework of Europe's day: "This 9 May must join us with one thing in mind: Albania must not be an obstacle of itself in the process of integration". /balkaneu.com/