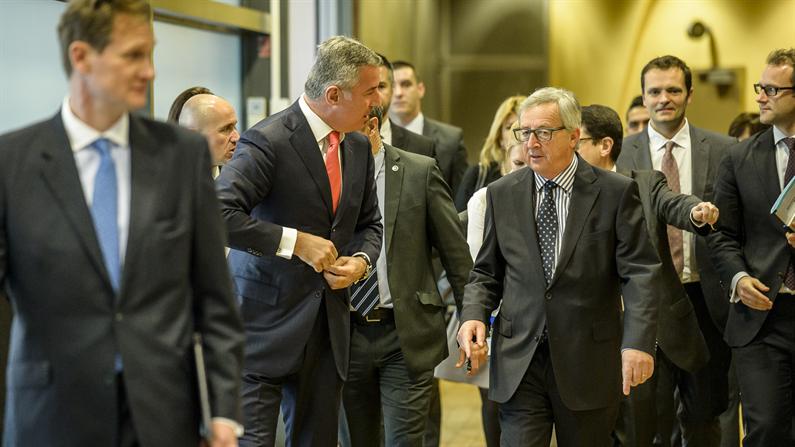 Podgorica, April 15, 2015/ Independent Balkan News Agency
By Adnan Prekic
Montenegrin Prime Minister Milo Djukanovic is in Brussels, where for the last two days has been talking with the leaders of the European Union and NATO. Djukanovic interlocutors announced they are supporting the reforms that are implemented by Montenegro, emphasising that Montenegro fully complies with the foreign policy priorities of the European Union. Officials in the European Union have welcomed the adoption of legislation in the struggle against corruption and organised crime, noting that from now on they expect concrete results from Montenegro.
Prime Minister Djukanovic is also participating in a meeting of the North Atlantic Council to discuss Montenegro's relationship with NATO. NATO Secretary General Jens Stoltenberg underlined that Foreign Ministers will assess Montenegro's progress by the end of this year, with a view of deciding whether to invite the country to join NATO.
Prime Minister of Montenegro Milo Djukanovic started his official visit to Brussels by meeting with the European Commission's President Jean-Claude Juncker. During his first meeting with Prime Minister Djukanovic ever since he took over the Commission's reins, President Juncker noted that the European Commission is impressed by the track record Montenegro has developed on its path to Europe, particularly referring to the country's economic progress and stability of public finance. In the meeting he also emphasised that he is encouraging Montenegro's commitment to promote the rule of law and media freedom.
The Prime Minister of Montenegro reiterated the importance of developing infrastructure links in the region as well as with the European Union, in addition to the overall economic developments for further integration and progress.
President of European Council Donald Tusk said that Montenegro needs to intensify its efforts with regards to legislative reforms and their effective implementation, as well as the crucial area of rule of law, adding that "particular attention should be given to further developing a solid path in this area, including the fight against corruption." He welcomed Montenegro's role as a committed foreign policy partner for the European Union and expressed appreciation for the country's full alignment with all of the EU's foreign policy positions.
Prime Minister Djukanovic is also participating in a meeting of the North Atlantic Council to discuss Montenegro's relationship with NATO in light of last September's decision to open "intense and focused talks" with Podgorica. NATO Secretary General Jens Stoltenberg welcomed Montenegro substantial reforms, saying they represent a "real progress towards membership in NATO".
After talking with Prime Minister Milo Djukanovic at NATO headquarters, Mr. Stoltenberg called Montenegro "the champion of regional cooperation", adding "you have repeatedly shown that you share our values". The Secretary General also thanked Montenegro for its continual financial and operational support for NATO Resolute Support mission in Afghanistan.
Calling today's meeting an "important step", the Secretary General noted that it was a chance to show that Montenegro is making progress in areas such as the intelligence sector reform, rule of law, and increasing public support for NATO membership.