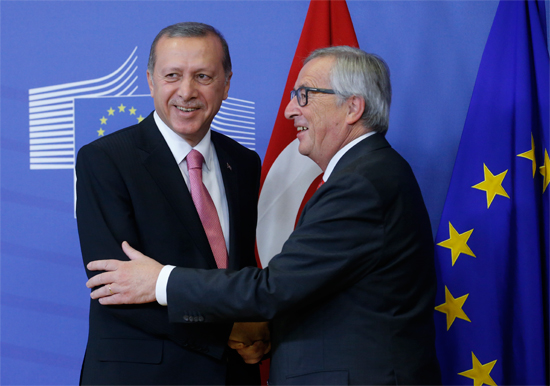 Member states were very critical of Turkey. At the dinner of the European Summit, which ended late at night on Thursday, the European leaders had to decide if the funds for the integration process of Turkey into the EU should be suspended.
Sources told IBNA that the common position of the European leaders was that Turkey is moving away from the Copenhagen criteria, and in particular from the democratic values ​​and the rule of law. According to the same sources, leaders also expressed concerns about purged people and other anti-democratic procedures after the failed coup.
It was a discussion that Angela Merkel had asked for. During her election campaign in Germany, Turkey had been one of the key issues. The Chancellor herself had stressed the issue entering the Summit, claiming that the leaders would decide on cutting or suspending Turkey's EU membership funds.
After a Summit dinner no official statement is needed. So, the leaders talked without any stress about their real opinion. And it was not nice for Turkey.
The final decision of the leaders was not to cut the funds, but… "rearrange" it in a way to help the democratization of the country. EU would continue offering money but on the level of NGOs –including governmental- in order to encourage the citizens to express themselves.
On behalf of Greece, Prime Minister Alexis Tsipras said that the rule of law and whatever happens in Turkey is connected to Greece and stressed that every day Turkey violates the Greek airspace. As he said, there are ways to send specific messages to Turkey and proposed that the integration process should be continued. Tsipras repeated the need to fund a mechanism for refugees in Turkey and examine possibilities to strengthen it…/IBNA