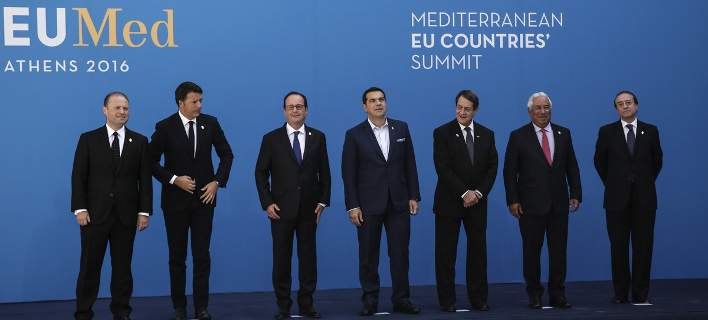 The leaders of seven Mediterranean EU member states will participate in the 2nd Summit of the EuroMed Group in Lisbon.
At the Lisbon Summit, the host, Portuguese Prime Minister Antonio Costa, will welcome his Spanish counterpart Mariano Rajoy, French President Francois Hollande, Italian Prime Minister Paolo Gentiloni, the Greek Prime Minister Alexis Tsipras, President of Cyprus Nikos Anastasiades and Prime Minister of Malta Joseph Muscat.
The leaders of the seven EU Mediterranean countries, continue the Greek Prime Minister's initiative, which first took place in September 2016 in Athens. It is worth adding that the first meeting was a success as it was the first time, that there was a single proposal from the countries of the EU South on Security, Immigration, Economy and relations with the Mediterranean countries and Africa.
The importance of the Summit, was also reflected in the reactions of the north, including those of the German Finance Minister Schäuble and the President of the European People's Party Euro MP Weber, who slammed the meeting, demonstrating their clear annoyance to Alexis Tsipras' initiative as well as towards the "alignment" of the southern leaders, for the future of the EU.
The objective of the second meeting is to coordinate the positions of these countries, which are being confronted with similar challenges, in view of the informal summit in Malta, on 3 February.
The issues expected to be discussed relate to the future of the EU, migration, internal as well as external security, economic and social development.
On the sidelines of the Summit, Alexis Tsipras will have bilateral meetings with both the President of Cyprus Nikos Anastasiades, where he will closely discuss the latest developments of the negotiations on the Cyprus issue, the conclusions of the meeting between Nikos Anastasiades and Mustafa Akinci as well as initiatives that will be taken to fully inform all international factors that can assist in a just and lasting solution in accordance with UN resolutions and international law.
According to IBNA information, Alexis Tsipras will meet with the French President and the Italian Prime Minister.
At the end of the conference the seven leaders will participate in a joint press conference and the Joint Declaration of the Summit will be announced./ΙΒΝΑ