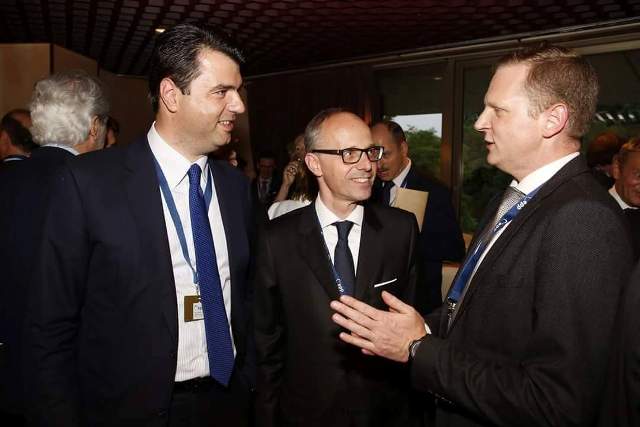 Tirana, 31 May 2016/Independent Balkan News Agency
European People's Party demands Albania to guarantee free and honest elections for the next parliament in June 2017.
The leader of the Albanian opposition, Lulzim Basha is in Luxembourg for the 40 anniversary of EPP, where he has met (photo) with senior officials of the European Union, heads of states and governments of member countries.
Speaking on these meetings, Mr. Basha said today (31.05) that "we talked about the engagement of the European People's Party for a strong, transparent and efficient Europe at the service of its citizens".
Meanwhile, Basha stressed that he received concrete support by EPP that "free and honest elections are the main condition for Albania's advancement in the EU integration path".
Mr. Basha also talked about the program that the Democratic Party has to come back to power. "Employment, economic stability, competition, security and development are everything that the right wing has offered to Europe. This is the reason why EPP continues to be for 16 years in a row, the main political force in Europe. The Democratic Party of Albania shares the same values with its twin parties of EPP and fights every day to offer the same standards to the Albanian citizens".
Based on these engagements of the Albanian opposition, it hopes for constant support from Europe. "Considering our proposals as the only alternative to take the country out of the crisis, the heads of European politics offered concrete support in implementing our program starting from the program for agriculture and education up to the encouragement of foreign investors to invest in Albania, which will create new jobs and improve livings standards for every Albanian".
***
In the 2013 elections, DP went to opposition after being 8 years in power. This party won less than one third of the 140 seat parliament. In 2015, in the local government elections, its result was again week, losing almost 80% of municipalities. /balkaneu.com/