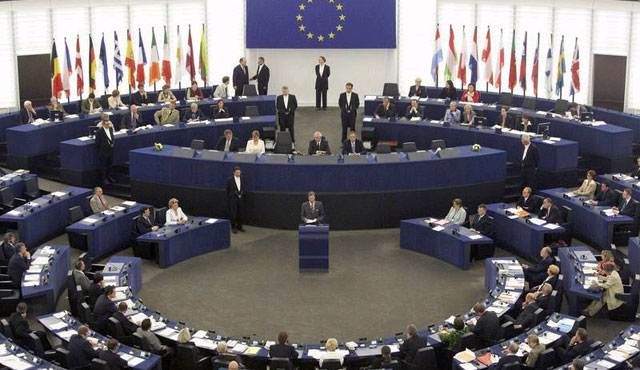 Pristina, February 22, 2014/Independent Balkan News Agency
By Elton Tota
European Parliament has called on EULEX mission to increase transparency. A resolution drafted by EP demands EULEX to inform the Parliament of Kosovo and the European Parliament on its decisions on a regular basis.
Representatives of institutions in Pristina say that it's substantial for EULEX mission to be held responsible for the poor performance against organized crime and corruption.
Speaker of the parliament of Kosovo, Jakup Krasniqi says that there's been a lack of communication between parliament and EULEX as the latter is an executive body and neutral toward the independence of Kosovo.
"Given that EULEX is an executive body of EU in Kosovo, it has communicated with the government and not parliament. I'm glad about the EU's resolution. We expect the parliament of Kosovo to be informed", says Krasniqi.
But, even the government doesn't think that there's been a satisfactory level of communication with this mission.
Deputy prime minister of Kosovo, Hajredin Kuci says that with the current mandate, EULEX has answered to institutions of Kosovo, but those in Brussels.
Self Determination too believes that since the start, EULEX has been a mission which has not answered to institutions of Kosovo.
Self Determination MP, Glauk Konjufca says that the government of Kosovo is to be blamed about the current situation, because it invited in Kosovo a mission which arrived and exerted executive powers over domestic institutions.
"EULEX status itself is a product of EU's compromise with Serbia, as we well know, Serbia postponed the arrival of this mission to Kosovo for 8 months (February-December 2008)", says Konjufca. According to him, this is the cause why EULEX was made part of Resolution 1244 and UNO Security Council.
Meanwhile, analysts believe that EULEX must report to the parliament of Kosovo only on non judicial matters.
Fisnik Konjufca from the Group for Legal and Political Studies says that this mission must be called to explain the achievement of its objectives based on its mandate and not to put the judicial system under the political control of parliament.
The analyst says that such thing would breach a standard of the objective independence of the judicial system, a standard sanctioned in the Constitution of Kosovo.
Nevertheless, the European Parliament Resolution, besides the call for transparency, also calls to authorities in Kosovo to further consider EULEX's mandate and to support the work of this mission. /ibna/