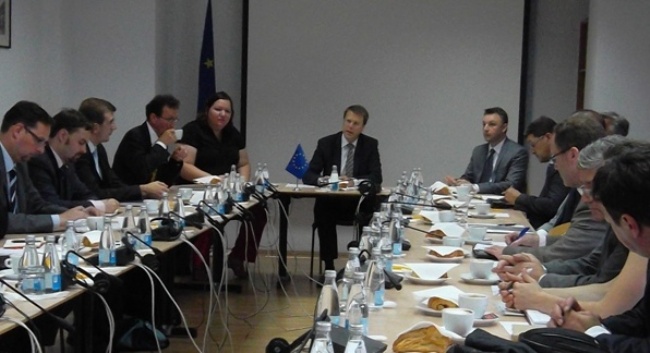 IBNA Special Report
Kosovo, May 23, 2014/Independent Balkan News Agency
By Elton Tota
Around 20 investors from European Union member countries have founded the European Council of Investors (ECI) to help with investment plans in Kosovo.
Their objective is to contribute in developing an efficient business environment, which is the foundation stone of a sustainable economy and to help in the improvement of social indicators.
ECI has been founded in order to make the voice of European investors be heard, in order to facilitate with the systematic obstacles encountered in the business environment and to increase Foreign Direct Investments, which would lead to the understanding of the potential of Kosovo through the creation of competition and capacity for citizens and businesses.
European Council of Investors is a non government and non profit business organization, founded by 16 investors from the European Union and member countries of EFTA: ARDA REI, Baker Tilly Kosovo, Coresteel, CROATIA Sigurimi, Ecovision, Illyria Insurance, IPKO, M&Sillosi, Mamidoil Kosovo, NLB Pristina, Panax Institute, Petrol Oti Slovenia, Price Water House Coopers, Pro Credit Bank Kosovo, Raiffeisen Bank Kosovo and Sharrcem.
The members of ECI are companies which operate in a number of business sectors of the Kosovar market, therefore they have an experience in given systematic deficiencies, which not only slow down the development of their activities, but in some cases also weaken the business meaning itself.
These issues must be addressed in the right way and time by Kosovar authorities, in order to create a stable market.
ECI is needed because foreign investors operating today in Kosovo are facing with significant difficulties in their business environment, requiring administrative ratification and regulation of important domains such as: Equal treatment, fiscal compliance, strengthening of the law, efficiency of the judiciary system, licensing and efficiency of administrative procedures, production, employment policies, etc.
Members of ECI are facing great difficulties, which on one hand prevent the implementation of their business plans-by preventing every investment that is included there- and make the country unattractive for Foreign Direct Investments.
ECI believes that such issues must be addressed with a great priority and it's engaged in forming work groups which will tackle identified deficiencies.
These work groups will conduct detailed analyses of each of the issues that require foreign expertise where necessary.
These work groups will be open for direct collaboration with respective public authorities for the issue in question.
The drafting of proposals based on the result of the analyses of the work group. Such proposals must include financial impacts, social and environmental impacts where applicable. Where applicable, their proposals will be compared with the practices and regulations of EU states. /ibna/