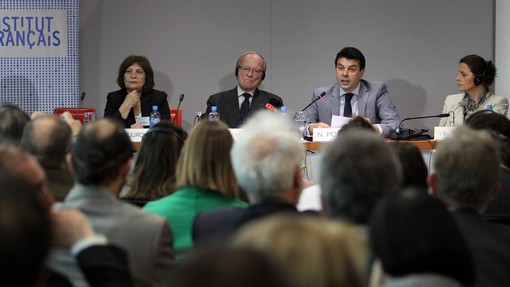 IBNA Special Report
Skopje, May 19, 2013/Independent Balkan News Agency
By Naser Pajaziti
The international conference "European identity and the future of Balkan" is being held today in Skopje. This conference has been organized by the embassies of Austria and France and the organization "European Movement of Macedonia".
Participants in this conference have addressed issues of identity and the unresolved problem of the name dispute.
Former general secretary of the Austrian Foreign Ministry, Johannes Kyrle said that as far as name dispute issue is concerned, there must be a solution based on the principles and standards of the European Union.
"It's necessary to have a compromise for the solution of the name dispute. As a country, you have two options or two rules that the EU has. You must either accept the rules and become an EU member, or remain outside it", declared Kyrle.
According to him, the scope of this conference is to open a debate for the Euro integration process of the country, with the conviction that France and Austria will help in this process to support the country in the Euro Atlantic path.
"Our countries are ready to continue and support the solution to the name dispute. But, what's important is to have incentives and efforts to achieve a solution by the two countries involved in this dispute, Skopje and Athens. Austrian authorities have made it quite clear that they support the proposal for the opening of negotiations for the accession of Macedonia, but this must continue alongside the solution to the name dispute", declared Kyrle.
Violin Billette de Villemeur, representative of the French Foreign Ministry says that his country remains a strong supporter of the process of enlargement and the inclusion of the Balkans in the big European family. "We're open as member countries, but what counts is the fact that EU doesn't accept members with open issues. For every problem or open issue there must be dialogue which secures success and a good future", said De Villemeur.
Stefan Lehne, representative of "Karnegi Europe" and expert on Balkan issues, has been involved in the overcoming of the 2001 crisis in the former Yugoslav Republic of Macedonia. He says that time has come to find a solution for the name dispute and to move forward with the process of Euro Atlantic integration process.
"No time should be wasted, because if the blockade continues, Macedonia will pay a high cost. The name dispute continues to block the progress of the country in the integration process and this is a frustrating aspect for the country and its citizens", said Lehne.
The head of Macedonian diplomacy, Nikola Poposki says that the country is prepared to start negotiations for accession in the EU. "In case the scope of the EU is for all the countries of the region to be within this family, but also part of the project for peace and stability, then opportunities should be offered for progress and accession. EU must take decisions, but without ignoring open discussions on disputes", declared foreign minister, Nikola Poposki.
French ambassador, Laurence Auer said that the scope is to open a debate for the Euro integration of FYR Macedonia. Auer says that France and Austria will be able to offer a great support for the country and its integration in the EU. /ibna/