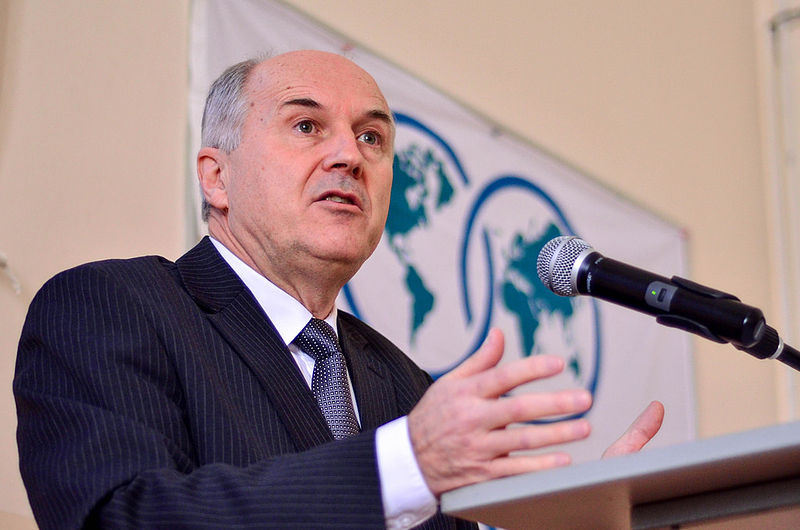 By Clive Leviev-Sawyer of the Sofia Globe
The European future of Bosnia and Herzegovina is a priority for Bulgaria and Sofia expects the new European Commission to focus more attention on the development of the country, Bulgarian foreign minister Kristian Vigenin said at a July 16 2014 meeting with the High Representative for Bosnia and Herzegovina, Valentin Inzko.
There should be a serious discussion, and specific measures with a clear time frame to address the problems instead of running after the events, Vigenin told Inzko (pictured), the Austrian who has held the High Representative post since 2009.
According to a Bulgarian foreign ministry statement, Inzko expressed thanks for Bulgaria's support for the work of the High Representative of the international community in Bosnia and Herzegovina. He emphasised the contribution of the Bulgarian military within the EU-led operation Althea.
Althea is the military deployment to oversee the military implementation of the Dayton Agreement of 1995 that brought to an end the three-and-a-half year armed conflict in Bosnia and Herzegovina.
Vigenin and Inzko shared concern at the stalemate in Bosnia and Herzegovina, the Bulgarian foreign ministry statement said. They expressed hope that the political leadership of the country would be able to find a new motivation for carrying out the necessary reforms to meet the legitimate expectations of the people for specific results.
Fortunately, the protests earlier this year not escalated, but they were strong signal to all of us that change was needed, Vigenin said.
Inzko noted that the new European Commission and the new government in Bosnia and Herzegovina, which will be formed after the elections in October, would mean a chance to reconsider the approach to the challenges facing the country.
The foreign ministry statement said that Vigenin and Inzko also discussed the July 16 Brussels donor conference on overcoming the flood damage in Bosnia and Herzegovina.
In addition to funding, we are ready to help in a way that is most useful to the country, Vigenin said.