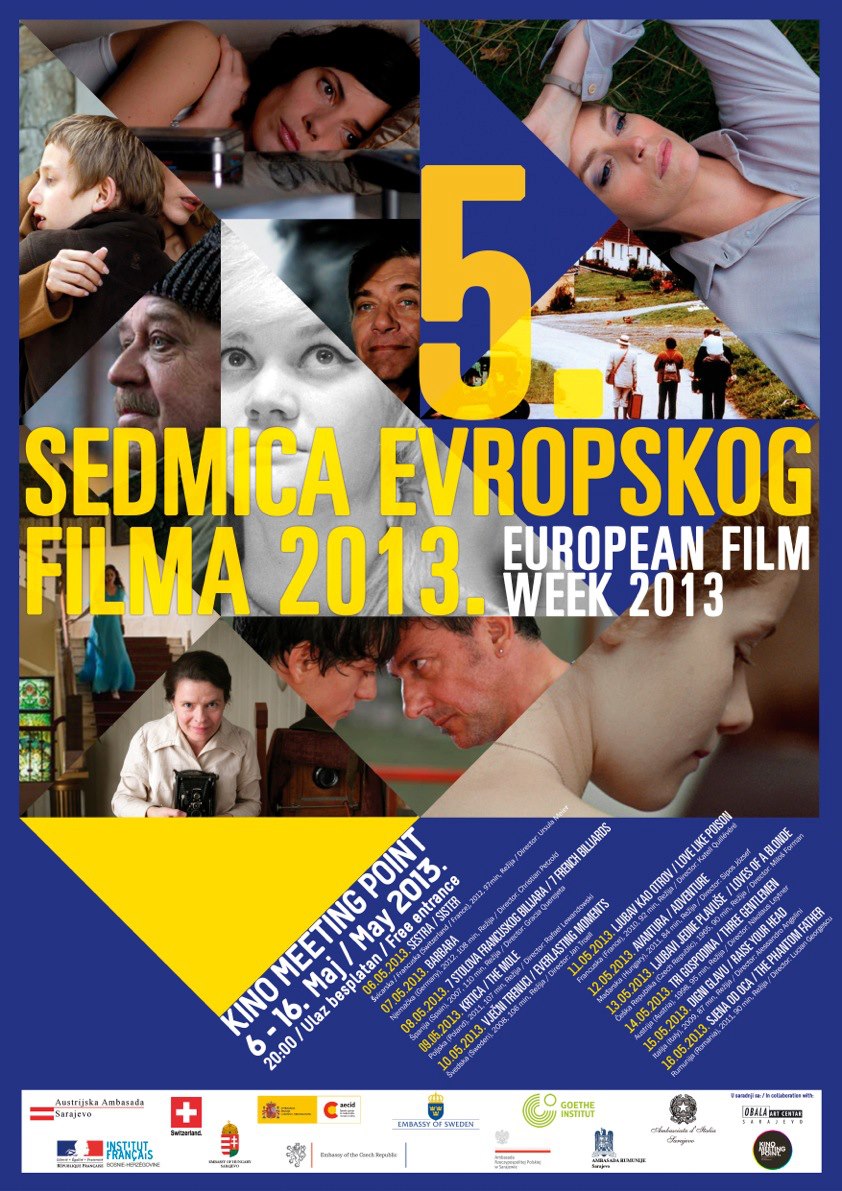 By Medina Malagic – Sarajevo
From 6-16 May the film festival "European Film Week" will take place in Sarajevo. Lasting for 11 days, 11 films will be shown from 11 countries in Europe in Kino Meeting Point in Sarajevo.
European Film Week is supported by numerous Embassies to BiH: Czech Republic, Poland, Hungary, Italy, Romania, Spain, Sweden, Switzerland and Austria, as well as the Obala Art Center Sarajevo, Meeting Point, Goethe Institute and Institute Francais in BiH.
The films that will be shown for the duration of this festival from 11 countries are: Sister (Switzerland), Barbara (Germany), Everlasting Moments (Sweden), Love Like Poison (France), Three Gentlemen (Austria), Raise Your Head (Italy), 7 French Billiards (Spain), The Mole (Poland), Adventure (Hungary), Loves of a Blonde (Czech Republic) and The Phantom Father (Romania).
In a statement from the Romanian Embassy to BiH on this upcoming film festival, "The Embassy of Romania will attend the European Film Week starting on 6 May, because the spirit of European Film Week is one of friendship, regional, European cooperation. Its aim is to reveal and focus attention on works of quality in order to contribute to the evolution of motion picture arts and to encourage development of the film industry throughout the European region. Also, European Film Week encourages an emerging generation of filmmakers whose films treat different aspects of spirituality and the human experience".
Thus, the participation of several embassies in BiH and other organizations demonstrates the significance of this rich cultural event not only for the city of Sarajevo, but also for the entire continent of Europe in promoting a communal spirit in the development of the European film industry.
The contribution of Germany to European Film Week in Sarajevo will be the screening of the movie "Barbara", which received the silver bear for best Director at the prestigious 2012 Berlinale Festival. It is a story that takes place in 1980's East Germany and centers on a female doctor who is forced to take a position in a clinic in the country after she attempts to apply for an exit visa. It is an absorbing story about the endurance of an individual against oppression, on finding value and meaning in life against adverse circumstances and the evolution of an individual's perspective.
This movie is just one example of the type of themes that are prevalent in the films that will be shown during European Film Week in Sarajevo, and many of the movies portray historical, social and economic periods that were specific to one country, but are also infused with universal themes of love, betrayal, human perseverance and sorrow.
Films will be shown with B/H/S and English subtitles beginning at 20:00 every night and entrance is free of charge.