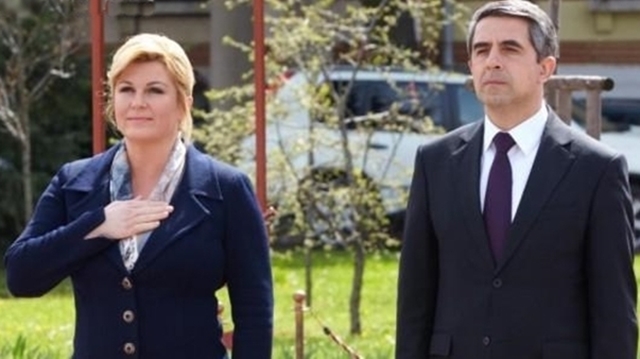 Sofia, March 30, 2016/ Independent Balkan News Agency
By Clive Leviev-Sawyer of The Sofia Globe
The building of a European Energy Union and regional energy market is a shared priority for Bulgaria and Croatia, Bulgarian President Rossen Plevneliev said in Sofia after talks on March 30 with his counterpart from Zagreb, Kolinda Grabar-Kitarović.
Grabar-Kitarović arrived in the Bulgarian capital for a two-day visit that includes a number of events, including a Bulgarian-Croatian business forum on March 31.
She and Plevneliev held wide-ranging talks, including on bilateral relations, regional co-operation, energy security, migration and the fight against terrorism, according to a statement by the Bulgarian President's office.
Plevneliev said that Bulgaria and Croatia support the European integration of their neighbours. "The process of EU enlargement will not be complete until all Western Balkans countries become part of the European family," he said.
He and Grabar-Kitarović agreed that the development of regional co-operation and improvement of transport and energy connectivity should be a priority for all countries in the region.
"Energy security can only be achieved through the connection of electricity and gas networks by building a system interconnectors. Each country in the region should have access to alternative sources. Therefore the construction of the European Union energy and regional energy market is a shared priority," Plevneliev said.
In talks on the migration crisis, Plevneliev and Grabar-Kitarović said that Bulgaria and Croatia welcomed the agreement reached two weeks ago between the EU and Turkey.
The two presidents agreed that the refugee wave affects not only individual countries but is relevant to the whole EU and a common solution is required.
"We must be proactive, to focus on removing the causes rather than to react after the fact. Europe must act more forcefully to resolve conflicts in the Middle East and North Africa," Plevneliev, adding again that Bulgaria was a good example of a country that applies European rules strictly and contributes to European security.
Plevneliev and Grabar-Kitarovićdiscussed the need for joint efforts to fight terrorism.
"The terrorist attacks in the heart of Europe showed that no one is immune. Removing the causes of marginalization and social exclusion that lead to radicalization require consistent efforts by both individual countries and at European level," Plevneliev said.
The two presidents said that Europe must not succumb to fear but must defend its values ​​and way of lif.
The degree of risk in the EU as a whole was the highest since the end of World War 2, Plevneliev said.
"Terrorism knows no boundaries. There must be an overall solution," he said. "To successfully fight the ideology of terrorism, we must create a working European mechanism for the integration of marginalized groups. If EU countries isolate themselves in their short-term and narrow national interests, this will lead to an even more severe crisis, resulting from a lack of solidarity," Plevneliev said.