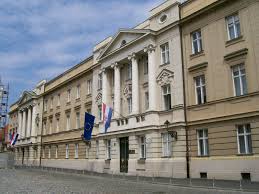 By Marija Avramovic – Zagreb
This year's European Parliament elections took place from 22 to 25 May in the 28 member countries whose representatives will compete for one of 751 seats in this institution. After the first European elections in Croatia were held in 2013, 12 Croatian representatives participated in the work of the representative body of the European Union , while the following year's election , this country will have 11 Representative elected from 25 electoral lists for a term of five years .
What makes this election unique with respect to the election of the other members of the European family is to take place in the aftermath of one of the largest floods that struck this country in the last hundred years. In addition to Croatia, great damage suffered the neighboring states of Serbia and Bosnia and Herzegovina, and due to such conditions, as the Croatian media reported, in parts of the country affected by floods there is less than 5 % of the voters.
Most Croatian politicians in their pre-election statements agreed that turnout will be higher this year than in last year's elections, which according to preliminary data from the DIP (State Electoral Commission of the Republic of Croatia) turned out to be true. According to DIP data, up to 16 h there were 16.45 % of voters, which is almost 2% more than the previous year, when up to 16 h voted 14.63%. Final results will still have to wait up to 23 h when the last polls closed in Europe and when they announced the first official results.
According to the first unofficial results of Croatian DIP and the respective parties, the HDZ ( Croatian Democratic Union ) could be the winner of this election , with 5 or 6 places . Croatian mediareport that the biggest loser in these elections is Labor Party – Croatian Labor Party ,who no longer has it's seat in European parliament.
The biggest surprise of the elections 2014 is a party Orah – Walnut (Croatian Sustainable Development party) which was formed in 2013th. Its leader is a former Minister of Environmental Protection and Nature and Social Democratic Party MP Mirela Holy, who said yesterday that " Walnut would be insanely happy if they could just won one seat in European parliament" and they did. According to the SDP (Social Democratic Party of Croatia) it would be a disaster if this party won less than 4 euro representatives.
For elections that coasted Croatians around 60 million kuna , nearly 8 million euros , president of HNS ( Croatian People 's Party – Liberal Democrats ), First Deputy Prime Minister and Minister of Foreign and European Affairs Minister Vesna Pusic said that it was very important for people in Croatia to understand that " Europe is a place where something of great importance and interest is happening ."