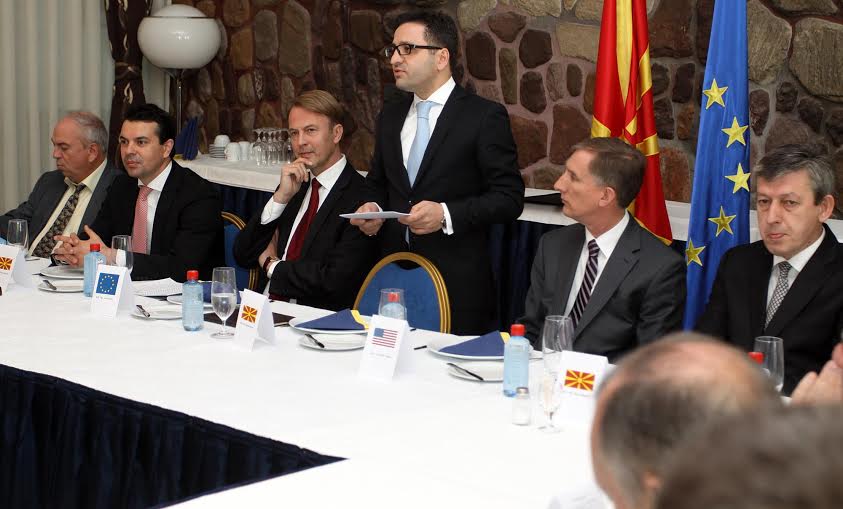 IBNA Special Report
Skopje, May 9, 2014/Independent Balkan News Agency
By Naser Pajaziti
May 9-European Day has been marked by a number of activities today in the former Yugoslav Republic of Macedonia. These manifestations have taken place in a separated way, because Albanian government officials have not celebrated this holiday with the Macedonian officials.
Prime minister Nikola Gruevski and president George Ivanov have had different agendas, while deputy prime minister for European Integration, Fatmir Besimi has been part of other activities held on this day.
The president of the country, George Ivanov was the host of the debate called "EU-from the idea to a common future", where he issued messages for the European future of the country.
"Today, our generation has a fair mission, to build together a democratic and developed country, by cultivating common values. Our mission is to lead the country to the European and Euro Atlantic family", said Ivanov in his message.
EU ambassador to Skopje, Aivo Orav demanded responsibility from political and institutional factors in the country, to follow the path of dialogue and reforms, which are a prerequisite for the EU accession of the country.
"European Union is your partner, but we cannot do your job. All voters must know that democracy is very important. Your country must fulfill the criteria demanded by EU for the accession", said Orav.
He added that there's a lot of reasons to celebrate together on this day. "We share a common history and I hope that one day, we will share a common future. 10 years ago, EU accepted 10 new countries. The enlargement process continues and EU needs Western Balkans countries and these countries need the EU", said the European ambassador Orav.
Deputy prime minister for European Integration, Fatmir Besimi was in a festive manifestation with school children in Skopje today.
He said that the sun is shining upon the country today like the EU stars and that this day is important for the country and it future. "This is a day where peace, unity and our joint efforts to become part of the great European family are celebrated. Today we're celebrating the birthday of a family that thinks about peace. As part of the government, we want to be part of this family", said deputy prime minister Besimi.
Macedonian opposition demanded today the EU's attention in relation to the developments in Macedonia and the lack of respect for democracy. This was stressed by the leader of the second largest opposition party New Social Democratic Party, Tito Petkovski.
"The two largest parties in power today, VMRO-DPMNE and BDI, demonstrated nationalism and strong chauvinism in front of the EU and international community. This is being tolerated and our country is being allowed to sink into an ethnic fundamentalism. How long do we have to wait before our young people stop leaving the country and EU to consider Macedonia problem free", said Petkovski.
Citizens gathered in a rally in the Skopje's square, said that May 9 must be a day of unification of all ethnicities, to move forward and to follow the example of the achievements made so far by the European family.
Elena M., a student from Skopje, says that she has always celebrated this holiday and wants to express a spirit of unification for a common goal, such as the accession of the country in the EU.
"We must be together and celebrate together, having the European family as a common goal. Even in this country, we are a family. Why should we not head toward EU like a family in harmony and peace", said the young girl from Skopje.
May 9 was also celebrated through different manifestations organized by non government associations. /ibna/