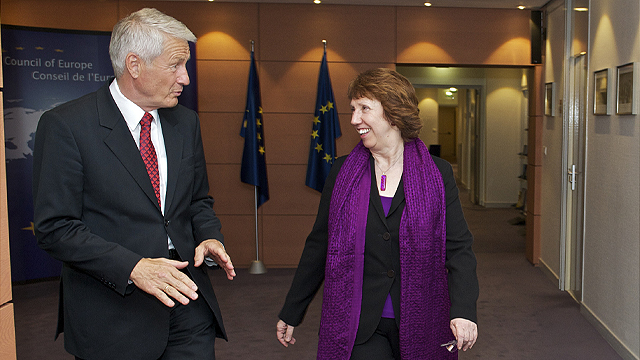 Strasbourg, October 10, 2013
The Secretary General of the Council of Europe, Thorbjørn Jagland, and the European Union's High Representative for Foreign Affairs and Security Policy, Catherine Ashton, have issued a joint declaration to mark the 7th European Day against the Death Penalty.
In the declaration, Secretary General Jagland and High Representative Ashton reiterate their strong opposition to the use of capital punishment, underling its inhumane and cruel nature and its failure to prevent crime.
Encouraged by the growing momentum towards worldwide abolition, they nevertheless state that the resumption of executions in different parts of the world and voices in favour of the death penalty – including in Europe – show the continuing need to spell out why it runs contrary to the right to life and human dignity.
Welcoming important recent steps towards abolition at the international level, they call on all European countries to legally abolish the death penalty in all circumstances and regret the continuous use of capital punishment in Belarus – the only European country still to do so.
The Council of Europe's Committee of Ministers declared 10 October as the annual "European Day against the Death Penalty" in September 2007 as a European contribution to the World Day against the Death Penalty on the same date. The European Day against the Death Penalty has been co-sponsored by the European Union since 2008. /ibna/