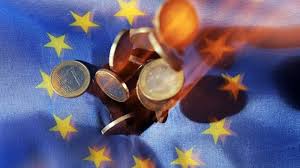 By Tinka Kurti
Pristina, June 7, 2013
Economy experts say that the economic slowdown in the Euro zone will have negative impact on Kosovo. According to experts, the crisis will be reflected in several domains such as: remittances by emigrants, fall in export and fall in direct foreign investments. These will lead to an economic slowdown.
"Economic performance in other countries, especially in the region and Europe has a direct or indirect impact on the economy of Kosovo. Currently I can say that economic developments have a mutual impact in countries that have economic exchanges with each-other. Therefore, our economy, besides the domestic factor, very much depends on foreign factors", says the professor of economics, Musa Limani.
According to him, given that Kosovo does trade with 27 EU countries, both in export and import, every change in the economic performance of these countries would be reflected on Kosovo. Limani adds that for 2013, economic growth may be 2 to 2.5%. Meanwhile, IFM has projected Kosovo's economic growth for 2013 to be no higher than 3%.
"Given the fall in direct foreign investments, I can say that the dynamic of economic developments in Kosovo may amount to 2-2.5%, because all the negative elements of the crisis in the Euro zone are directly reflected upon the economic developments of our country", adds Limani.
Meanwhile, business representatives also voice their concern.
"Kosovo is now experiencing a crisis, given that foreign investments have fallen by 40%. This means that foreign investors are not coming due to the crisis that they're experiencing in their countries", said the chairman of the Kosovo Business Alliance, Agim Shahini.
According to EU statistics, the GDP in the Euro zone countries in the first three months of 2013 has fallen by 1.1% compared to the same period last year.
Economic growth in 27 EU countries, (including those which are not part of the Euro zone) during this period, compared to the last quarter of 2012 has seen a fall of 0.1%, whereas compared to the first quarter of 2012, it has fallen by 0.7%. /ibna/