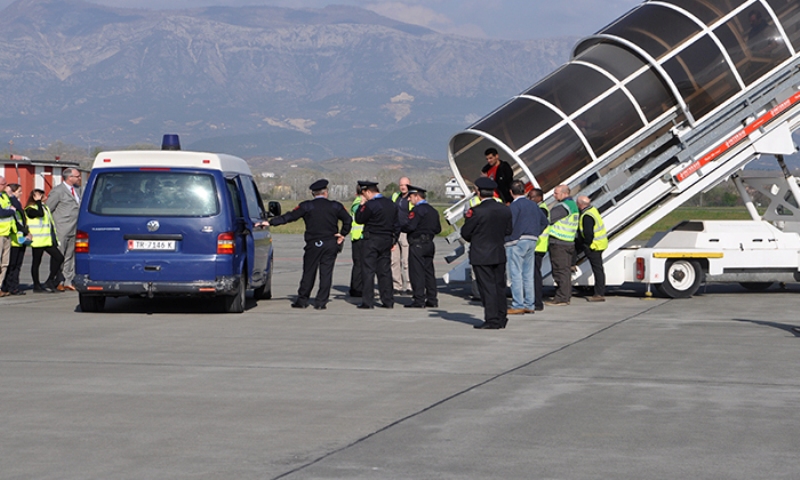 Tirana, March 24, 2014/Independent Balkan News Agency
European Union no longer grants asylum for Albanian nationals, therefore asylum seekers will be repatriated and those who make fresh applications will not be taken under consideration.
Authorities in European countries are launching clear messages for Albanians by inviting them not to invest in projects which will not bring benefits.
British Minister of State, John Taylor traveled to Albania this weekend on a plane filled with tens of deported Albanians. Mr. Taylor did this in an effort to demonstrate that London is serious when it says that it will not accept any applicants from Albania who will seek political asylum or any other kind of asylum.
47 Albanian nationals, who were illegally staying in Great Britain, were on board of the plane with Mr. Taylor. They were delivered to Albanian authorities (photo) at "Mother Teresa" international airport.
Mr. Taylor held a meeting with the Albanian minister of Interior, Saimir Tahiri and deputy minister of Interior, Elona Gjebrea.
Representatives of both governments called on all Albanian citizens not to attempt and seek asylum in Great Britain and other EU countries.
They said that Albania is currently outside of the map of countries that can benefit this status.
Mr. Taylor has demanded from Albanian authorities to take efficient measures in order to stop asylum seekers.
Minister of Interior, Saimir Tahiri says that the Albanian government is determined to fight traffic of human beings.
"We're also determined to prevent any attempt for illegal emigration", says Mr. Tahiri.
The minister wants to reinforce the messages issued by the state when he says: "I call on all Albanian nationals to comply with the free movement regime and be aware that today, seeking asylum in all EU member countries is impossible. EU member countries no longer grant asylum to Albanian nationals".
Tahiri said that the traffic of human beings is an illegal lucrative business and that war against it will not stop.
"Along with our partners, we're determined to fight all those who in a criminal way take advantage of this phenomenon to generate criminal incomes", says Tahiri.
Illegal emigration did not stop although Albania benefited the lifting of the visa regime. An observation made by IBNA has pointed out facts which are not officially admitted by authorities, but which are well known by them. A part of them are also under police investigation.
Many people are obliged to cross the border to reach EU countries in an illegal way, as they have been refused entry in these countries for a period of 5 to 14 years.
They use traffickers who transport them with different means, such as ships, motorboats, cars, buses, etc.
The points used for this kind of traffic are the port of Durres and port of Vlore, border crossing points with Greece, FYROM, Montenegro and Kosovo. Payments for this kind of "service" vary from 500 to 2500 Euros.
Another way of trafficking is that of the forgery of US and Canadian visas.
Payments for this start from 10 thousand USD to 15 thousand USD. Given that the authorities in these countries rarely repatriate emigrants who manage to enter the country, some people are encouraged to emigrate illegally.
When some of the people who plan this kind of journey are asked on this, they say that it's impossible for them to illegally emigrate, as the lottery is a dream which rarely comes true. In reality, embassies are very careful when issuing visas, by discouraging applicants of a young age. /ibna/