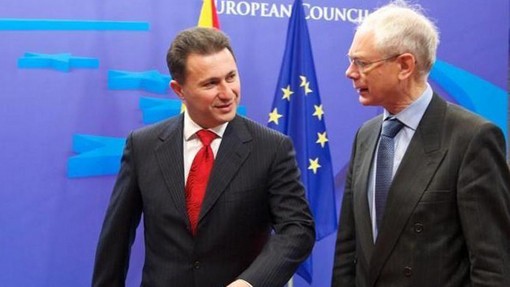 Brussels, December 9, 2013/ Balkan Independent News Agency
Prime Minister of Former Yugoslav Republic of Macedonia, Nikola Gruevski has met on Monday in Brussels (photo) the president of the European Council, Herman Van Rompuy.
This meeting focused on the political developments and reforms in the framework of the process of integration and ahead of next week's European Union Summit.
After the meeting, premier Gruevski said that he has briefed the high European Council senior official, Herman Van Rompuy about the efforts of the government in relation to the realization of reforms which relate to the EU integration.
Mr. Gruevski said that he was told by Mr. Rompuy that the opening of negotiations for accession depends on the unique stance of the EU member countries, underlining the need for the solution of the name dispute with Greece.
"This meeting has taken place upon our request and we gave our arguments in the progress that we're making in the path of integration. We also talked about the reforms, achievements, but also the problems that we encounter. We talked about our only obstacle, that of the failure to solve the name dispute", declared Gruevski after the meeting.
On the other hand, Rompuy has not issued details about the meeting with prime minister Gruevski.
Dirk De Baker, spokesman of the president of the European Council said that there are no details to be given from this meeting.
During his stay in Brussels, Mr. Gruevski will also meet in a business dinner with the ambassadors of EU member countries in Brussels. /ibna/