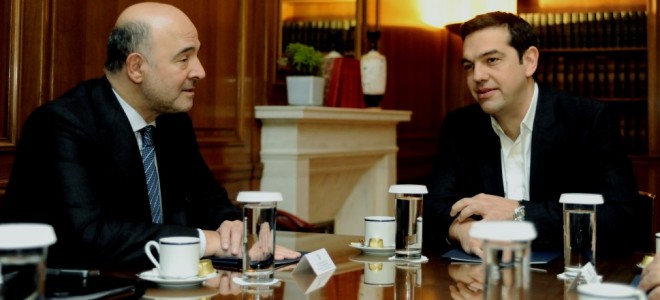 Athens, July 19, 2016/ Independent Balkan News Agency
By Zacharias Petrou
In public statements during his official visit to Athens, European Commissioner for Financial & Monetary Affairs, Pierre Moscovici, stressed that the Commission will always stand beside the Greek people and the country's government to build a stronger Europe inside the Eurozone.
Moscovici met with Greek Prime Minister Alexis Tsipras and Finance Minister Euclid Tsakalotos with who he also held a joint press conference.
Tsipras stressed the need for specific measures offering debt relief to Greece to be determined as soon as possible. According to government sources, there was also agreement on the intention to swiftly conclude the second review of the Greek bailout program without moving away from the European social acquis.
The meeting was seen as positive for Greece as it confirmed the good climate of cooperation between the two sides and the determination to rebuild trust in the Greek economy.
"It is time for normality, it is time for stability, it is time for implementation and it is time for investment," Moscovici said after meeting Prime Minister Alexis Tsipras.
"That doesn't mean that everything is finished. We still have a way to go and there are discussions taking place and the need to complete some milestones for the first review and also to discuss the so-called second review."
Responding to a question about Greece's desire to lower primary budget surplus targets beyond 2018, Moscovici said during the joint press conference with Finance Minister Euclid Tsakalotos: "Everything must be on the table … but I would not suggest reopening this (issue)."
On his part, Tsakalotos suggested that the medium-term fiscal plan may not be tabled in parliament until there an agreement is reached with creditors on primary surplus targets. Athens is keen on lowering the primary surplus targets beyon 2018 in order to ease the fiscal pressure resulting from the austerity measures it has agreed to implement.