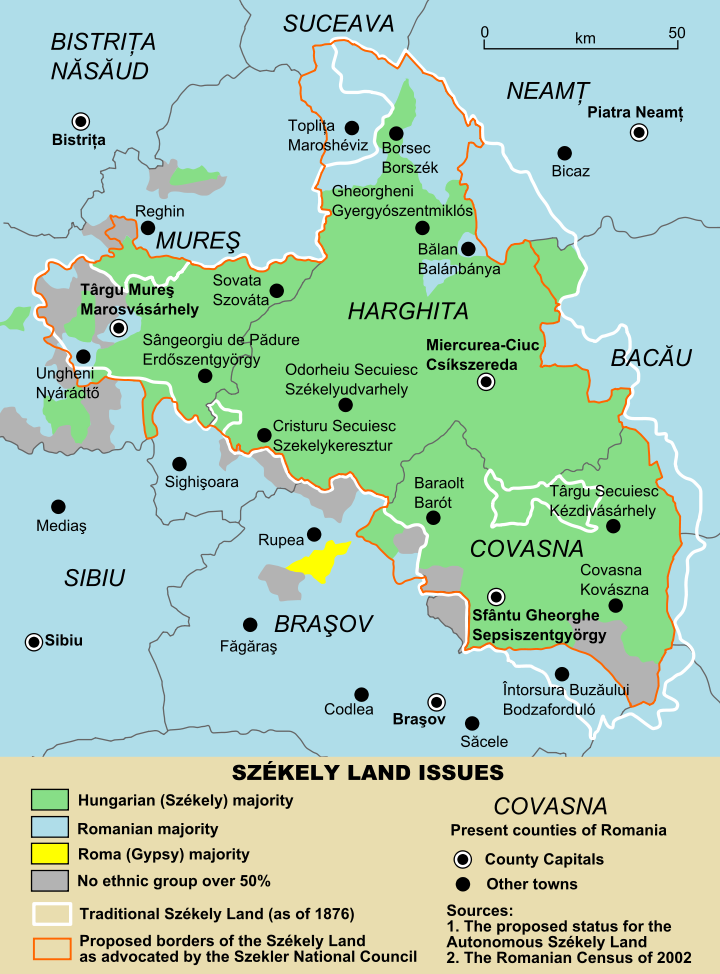 By Daniel Stroe – Bucharest
The European executive arm has turned down an initiative submitted by a right wing political party representing the Hungarian minority in Romania and which had asked Brussels to pay more attention to ethnic communities throughout the communitarian bloc.
In its response, the European Commission informs the National Szeklers' Council (SZNT), a political organization which militates for territorial autonomy of the so-called Szeklersland, an area in central Romania inhabited by a Hungarian majority, that its initiative doesn't fall into the sphere of the European executive.
SZNT is hoping to gather one million signatures to determine the EU to grant more attention to those areas which are different from the surrounding region in terms of culture, ethnics, religion or language. The so-called Szeklersland covers two counties (Covasna and Harghita) and partially the Mures County, in Transylvania.
The Szeklers' drive is especially motivated by Romania's plans to administratively reorganize the country and which will include the three counties mentioned above into a wider region, sparking fears the Magyars inhabited area will thus lose its cultural and ethnical peculiarities.
Balazs Izsak, the head of the SZNT, had said that if Szeklersland is integrated into a wider region, than the Magyar community will only represent 30 per cent of the population of this wider structure. "This has to be stopped through all the democratic and non-violent means" he warned.
The European Commission's response comes days after another promoter of autonomy in Szeklersland, Laszlo Tokes, the leader of the National Council of Hungarians in Transylvania (CNMT), asked the Hungarian PM Viktor Orban to bring the Magyar majority under Hungary's protectorate, statements which sparked vivid reactions in Bucharest.
"We are asking PM Viktor Orban and his government to build a national cooperation system so that you can offer Transylvania a protectorate just as Austria did with Southern Tyrol" Tokes, a European lawmaker, said during the works of the summer university in Baile Tusnad, a mountain resort in the so-called Szeklersland. Orban and his deputy PM, Semnjen Szolt, attended the meetings which drew around 3.000 Hungarians from across the region.
The Romanian ministry of Foreign Affairs condemned the statements made by Szolt in support for territorial autonomy of Szeklersland and warned they equal to meddling in Romania's internal affairs. The summer university in Baile Tusnad have started to look like the meetings of the Hungarian Government, it also pointed out, alluding to the large presence of Hungarian dignitaries. Two Romanian youth threw tomatoes towards the desk where Viktor Orban was delivering a speech from on Saturday, without being hit.