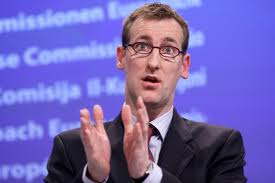 By Daniel Stroe – Bucharest
The European executive arm's report on the progress Romania and Bulgaria have made within the Cooperation and Verification Mechanism (CVM) will be issued next year, and not in December as was initially established, the European Commission's spokesman Mark Gray said yesterday, fueling speculations in Bucharest that the decision comes after controversial decisions concerning the anti-corruption body taken by the Romanian government.
Gray admitted the commission had recently received several complaints lodged by Romanian NGOs "after the controversy created around the situation of some prosecutors and some appointments".
"What I can say on behalf of the European Commission is very simple. DNA (the Anti-Corruption Department) is mentioned by the commission in all its report as being one of the most effective institutions in terms of Romania's fulfillment of the conditions in the CVM" Gray added, pointing out DNA has had a "solid record of independence and objectiveness".
The official said the commission will not comment upon individual appointments of prosecutors, but will reflect upon DNA's whole situation. Asked by reporters, Gray said the next CVM report will be released next year, most probably in January.
The European Commission's decision to adjourn the release of the report for at least a month comes despite Romania's request the report is issued before the Justice and Home Affairs Council meeting on 4-5 December when both Romania and Bulgaria hope to get the green light for the Schengen accession. Officials in Bucharest argued that a decision concerning Schengen accession may be again delayed by countries which will invoke the CVM report not being released yet.
It is though highly unlikely the two countries will receive good news in December since France has already voiced opposition to Romania's and Bulgaria's accession, citing border security concerns, after it initially invoked the Roma immigration issue. Holland also said it would make a decision in this respect only after the CVM report so, consequently, the Schengen topic will be most probably taken off the agenda of the meeting in December.
Romania has again sparked concerns in the West concerning the influence of the politics on its frail judicial system after a DNA prosecutor was last week removed from position by the politically appointed prosecutor-general. Lucian Papici was dismissed the very next day he had finished the investigation concerning the deputy-PM Liviu Dragnea who has in the meantime been indicted for electoral fraud during last year referendum for the impeachment of President Traian Basescu. Experts warned Papici's removal was a politically motivated decision.