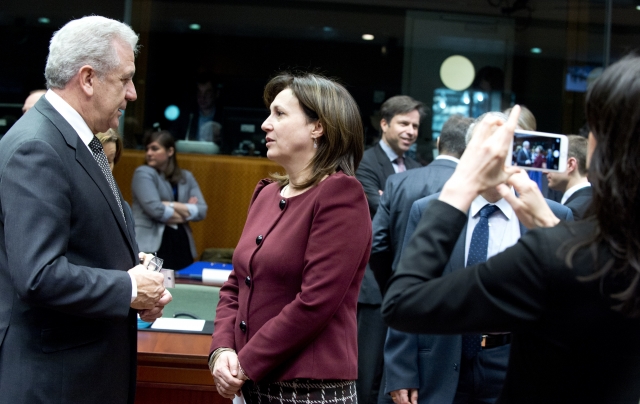 Athens, March 9, 2016/Independent Balkan News Agency
By Spiros Sideris
The decision by Serbia to close its borders with FYROM and Bulgaria to refugees and other migrants without valid EU visas does not change the situation in Bulgaria, Interior Minister Roumyana Buchvarova said in Sofia on March 9.
Bulgaria's Interior Minister, speaking in a television interview, said that daily, the country was detaining migrants trying to cross the border into its Western neighbour.
Buchvarova said that the European decision to halt illegal entries would be a strong signal to migrants.
Bulgaria was taking all necessary steps and the country's readiness to prevent attempts at illegal and organised entry by migrants to its territory had been enhanced.
She said that according to Interior Ministry data, about 90 per cent of the migration flow was organised.
Currently, the realistic goal was to reduce refugee flows, Buchvarova said. The best option was for the flow to be restricted and for the refugees to remain on the territory of Turkey.
In a separate television interview on March 9, Bulgarian Defence Minister Nikolai Nenchev said that the situation in Greece was "very difficult".
"According to our information, about 30 000 refugees are concentrated there, some of them, close to our border. The situation is the same in FYROM and in Serbia. Bulgaria is a kind of island of stability," Nenchev said.
"We hope that this will remain so for a long time, but there is always the likelihood of these refugees to move towards the Bulgarian border," he said.
For this reason, measures and instructions had been prepared to stem the flow from across the borders of the countries from which migrants were coming. "We will do everything possible to protect the Bulgarian border," Nenchev said.
He did not deny the possibility that refugees would cross the border between Greece and Bulgaria, or between Greece and FYROM through inaccessible mountainous regions.
"They are extremely creative and determined. Most of them argue that in no way would they agree to return voluntarily," Nenchev said.
"We are ready to send up to 1000 people within a few hours to the border near Idomeni. Some of them will be armed. Patrols will be carried out jointly with the Ministry of Interior. We will use force only as a last resort – when the lives of our soldiers or police are in danger," the Defence Minister said.
(Bulgarian Interior Minister and Deputy PM Roumyana Buchvarova speaks to European commissioner for home affairs Dimitris Avramopoulos during a EU summit on migration in March 2015. Photo: EC Audiovisual Service)