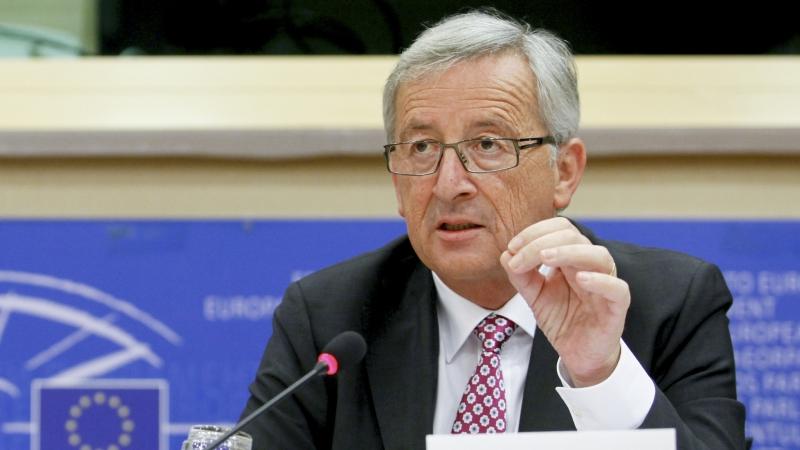 Nicosia, September 14, 2016/Independent Balkan News Agency
Europe is a driving force that can help bring about the unification of Cyprus, something I am supporting the two leaders of Cyprus in, European Commission President Jean Claude Juncker said on Wednesday, noting that "we need to get this done now."
Cyprus President Nicos Anastasiades and Turkish Cypriot leader Mustafa Akinci have been engaged in UN-led talks since May last year, with a view to reunite Cyprus, divided since the Turkish invasion of the island in 1974.
Speaking before the European Parliament plenary in Strasbourg on the "State of the Union", Juncker said that the EU is at least in part in an existential crisis and proposed a positive agenda of concrete European actions for the next twelve months, to deliver a better Europe, a Europe that protects, a Europe that preserves the European way of life, that empowers its citizens, that defends at home and abroad, and that takes responsibility.
He said that populism, unemployment and social injustice are among the key challenges for the EU. The refugee crisis, Brexit and counter-terrorism were also debated with political groups' leaders and other MEPs, who put forward their visions of how to address people's deepest concerns about the future.
Referring to Brexit, he noted that "we respect and regret the UK decision, but EU as such is not at risk. " We would be happy for the request for Brexit to take effect as soon as possible." He also noted that the new relations with UK will not include "à la carte" access to the single market.
Juncker started his speech by naming the biggest challenges EU is facing now: fragmentation, populism, unemployment and social injustice. "Populism does not solve problems, but creates them", he stressed.
He also touched on other challenges that Europe needs to tackle: swiftly ratifying the climate change agreement, further free trade agreements with third countries such as CETA, data protection, fighting tax evasion, building capital union, access to high speed Internet and more job-creating investment. He also announced that the amount of European strategic investment fund would be doubled.
On the refugee crisis he said "we have started to see solidarity but much more is needed." He proposed creating an EU solidarity corps and a new investment plan for Africa. On counter-terrorism, he stressed the need to step up information exchange among national police authorities and proposed, inter alia, strengthening Europol. Moreover, he announced a proposal for a European Defence Fund.
Juncker noted that we need to remember the sense of purpose of our Union. "I therefore call on each of the 27 leaders making their way to Bratislava to think of three reasons why we need the European Union. Three things they are willing to take responsibility for defending. And that they are willing to deliver swiftly afterwards", he noted.
He said that slow delivery on promises made, is a phenomenon that more and more risks undermining the Union's credibility. "Take the Paris agreement. We Europeans are the world leaders on climate action. It was Europe that brokered the first-ever legally binding, global climate deal. It was Europe that built the coalition of ambition that made agreement in Paris possible. But Europe is now struggling to show the way and be amongst the first to ratify our agreement. Only France, Austria and Hungary have ratified it so far," he said.
He called on all member states and on the European Parliament to do their part in the next weeks, not months. We should be faster. Let's get the Paris agreement ratified now. It can be done. It is a question of political will. And it is about Europe's global influence, he noted.
He said that the High Representative, Federica Mogherini, is doing a fantastic job, but "needs to become our European Foreign Minister via whom all diplomatic services, of big and small countries alike, pool their forces to achieve leverage in international negotiations. This is why I call today for a European Strategy for Syria. Federica should have a seat at the table when the future of Syria is being discussed. So that Europe can help rebuild a peaceful Syrian nation and a pluralistic, tolerant civil society in Syria," he added.
Moreover, Juncker said that Europe needs to toughen up, adding that nowhere is this truer than in our defence policy.
"It is time we had a single headquarters for the operations. We should also move towards common military assets, in some cases owned by the EU. And, of course, in full complementarity with NATO," he said.
He noted that the lack of cooperation in defence matters costs Europe between €25 billion and €100 billion per year, depending on the areas concerned, adding that they will propose before the end of the year a European Defence Fund, to turbo boost research and innovation," he said.
Referring to the protection of EU borders, he said that he wanted to see at least 200 extra border guards and 50 extra vehicles deployed at the Bulgarian external borders as of October. We will defend our borders, as well, with strict controls, adopted by the end of the year, on everyone crossing them. Every time someone enters or exits the EU, there will be a record of when, where and why, he stressed.
He noted that "by November, we will propose a European Travel Information System – an automated system to determine who will be allowed to travel to Europe. This way we will know who is travelling to Europe before they even get here."
He added that border security also means that information and intelligence exchange must be prioritised. For this, we will reinforce Europol – our European agency supporting national law enforcement – by giving it better access to databases and more resources. A counter terrorism unit that currently has a staff of 60 cannot provide the necessary 24/7 support.
Juncker also said that  the Commission is proposing to fully deploy 5G, the fifth generation of mobile communication systems, across the European Union by 2025. This has the potential to create a further two million jobs in the EU.
On the Investment Plan for Europe, he noted that "today, we propose to double the duration of the Fund and double its financial capacity. With your support, we will make sure that our European Investment Fund will provide a total of at least €500 billion – half a trillion – of investments by 2020. And we will work beyond that to reach €630 billion by 2022. Of course, with Member States contributing, we can get there even faster," he noted.
Moreover, he proposed  to set up a European Solidarity Corps. "Young people across the EU will be able to volunteer their help where it is needed most, to respond to crisis situations, like the refugee crisis or the recent earthquakes in Italy. I want this European Solidarity Corps up and running by the end of the year. And by 2020, to see the first 100,000 young Europeans taking part," he noted.
In his reply to MEPs' interventions, Juncker explained that intense negotiations are ongoing with Turkey on visa liberalisation, but that all preconditions need to be fulfilled. The laws on terrorism for example have to be changed. As for the social pillar, the Commission is putting out consultations for the time being.
EP President Martin Schulz , before giving the floor to Juncker, said that the State of the Union speech is a very important moment in Parliament's work, especially in times where we might be witnessing a fundamental change and just two days before the Bratislava summit.
EPP group leader Manfred Weber noted the pro-EU views of some of the many young Europeans travelling through Europe this summer with Interrail passes, saying that "for European youth, Europe means a better future". He also said that "Turkey is an important partner, but could not be a full member of the EU." He concluded that: "People in Europe don`t want a split Europe, they want solutions."
S&D group leader Gianni Pitella  thanked Juncker for his positive responses to his group's proposals on sustainable growth, the investment plan, jobs and the fight against tax evasion. Juncker's speech had been "aware and responsible", he said, welcoming flexibility and the lack of references to austerity. On Brexit, Pittella noted that UK Prime Minister Theresa May had kept the EU "in a stalemate" for the three months since the Brexit vote, and stressed the need for the EU to respond.
For the ECR, Syed Kamall (UK) said that "more Europe, more military integration, and more debts" had distanced people from the EU. "Dismissing people's legitimate concerns will drive voters to radical political forces", he predicted, suggesting that the "EU could do less, but better […] to respond to new signals, deliver meaningful reforms, that helps us compete and provide opportunity for our citizens in globalised world."
ALDE group leader Guy Verhofstadt  (BE) said that there is a split between generations on Europe, with the younger in favour and the older more sceptical. "Populists preach a false sense of security, that with walls and fences we solve all the problems, but how do you keep climate change or terrorists out of your country? With fences or with European policies?", he asked, adding that "Europe is the cure for the cancer of nationalism" and that Brexit is an opportunity for Europe.
"It is always the shoulders of citizens that carry the debts", said Gabriele Zimmer (GUE/NGL, DE). "We keep talking about flexibility and jobs, but how are citizens going to believe it?" she asked, saying that priority should go to ensuring that the citizens of Europe have "proper jobs and proper places to live".  Zimmer also said that the EU has to be made more democratic.
Rebecca Harms (Greens/EFA, Germany) stressed that the EU is an answer in uncertain times of globalisation and called for new actions that could give citizens "new trust in a new common European path". She also called for a climate union and for swift ratification of Paris climate agreement.
EFDD leader Nigel Farage (UK) reiterated that he was pleased by the UK vote to leave. He predicted rapid growth in opposition parties in Europe, saying that "you are not going to stop Eastern European countries saying no to Merkel's refugee policy", and that there would be more referendums on Europe.
Marine Le Pen  (ENF, FR) called Mr Juncker's speech "insipid and faulty", saying that it was "basically like a funeral for the EU". For Ms Le Pen, "Brexit has really broken a taboo, it has showed that one can leave the EU and come out better." Replying to a question, she said she would propose a referendum on Frexit if elected President of France in 2017.
Diane Dodds, a non-attached member from the UK, hoped that after Brexit "EU and UK will define and build new and mutually beneficial relations".
The EU is facing unprecedented challenges, but first and foremost must fight uncertainty, stressed Ivan Korčok,  State Secretary of the Slovak Ministry of Foreign and European Affairs. The Bratislava summit of 16 September will be "an opportunity for a frank and open discussion" in the aftermath of the UK referendum and "will kick off a process" of finding "common ground" in "migration, internal and external security", he said.
Source: Cyprus News Agency