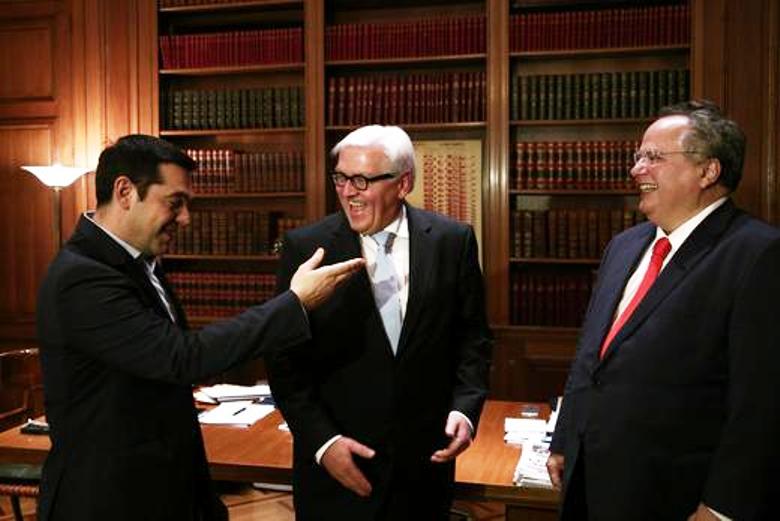 Europe is at a difficult turning point and we all need to realize that the great threat is the rise of the extreme right and Europe cannot move ahead based only on punishing policies, Prime Minister Alexis Tsipras said on Monday welcoming German Foreign Minister Frank Walter Steinmeier at the Maximos Mansion.
Tsipras underlined that apart ftom the financial crisis, Greece is also facing a refugee crisis and referred to the sacrifices of the Greek people. He also stressed the importance of finding a sustainable solution to the Cyprus issue after 42 years.
Referring to the referendum result in Italy, the German Foreign Minister said that it is a government crisis and not a state crisis "It is not a positive message in a difficult period for the EU. In this context I am grateful to be with a partner that shares the same ideas with us, a friend of Europe," he noted.
Steinmeier also said that he is aware of the difficulties that Greece is facing as a result of the economic crisis and the refugee issue.
Mitsotakis, Steinmeier discuss economy, politics, Italian referendum and Cyprus
Economic and political developments in Greece and Germany, as well as migration were discussed between New Democracy leader Kyriakos Mitsotakis and German Foreign Minister Frank-Walter Steinmeier in Athens on Monday. Mitsotakis and Steinmeier also discussed Italy's referendum, EU's future, the presidential elections in Austria and Cyprus.
"I also informed Mr. Steinmeier on our continuing support of [Cypriot] President [Nikos] Anastasiades' efforts for a just, viable and functional solution of the Cyprus problem, especially now that talks to reach an agreement are intensifying," Mitsotakis said, adding he also expressed his concern about statements by Turkey that attempt to create tension at a time when "composure and prudence are required to address the major geopolitical challenges in our region."
He also stressed the need for a national plan to pull Greece out of the crisis.
Kotzias, Steinmeier call on Turkey to stop 'playing games with the Lausanne Treaty'
Greek and German Foreign Ministers Nikos Kotzias and Frank-Walter Steinmeier late on Sunday sent a message to Turkey to stop playing games with the Treaty of Lausanne.
"Everyone knows what it would mean to start questioning the borders in Europe. Surely this does not contribute to the urgently needed stability that citizens are seeking," said Steinmeier.
Kotzias underlined that in order for Turkey to have a European orientation, it needs to keep a low profile and implement the international law, which also means to apply and respect the Treaty of Lausanne. Because some of its provisions, such as the autonomous administrative status of Imvros and Tenedos islands, are not respected, he said and added:
"We want a European democratic Turkey to join the EU, we want a neighbour country that will comply with the international and European law."
Both officials expressed their optimism over the Cyprus issue, stressing that a solution to the problem would have a positive impact on the future of Greece and the EU. "Of course a solution that will be based on the European and international law without guarantees and occupations troops," Kotzias underlined./ΙΒΝΑ