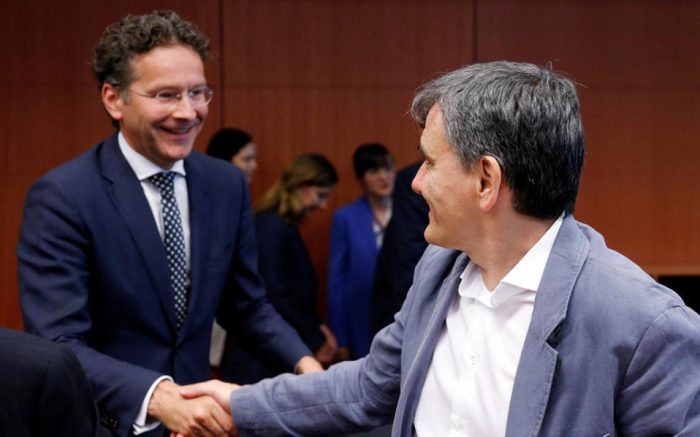 Greece's international creditors have warned Athens to make sufficient progress in the implementation of agreed reforms, if the third review is to be completed smoothly.
Specifically, creditors want the government to begin online auctioning of foreclosed and seized properties, while also taking sufficient measures to deal with Non-Performing Loans. The two issues were discussed at

Monday's 

Eurogroup meeting.
On its part, the Greek government has reportedly requested the freezing of a VAT increase to apply in 32 Aegean islands by one year. Athens is also seeking to put off the implementation of a capital gains tax on the purchase and sale of real estate.
The results of the visit by the institutions mission chiefs in Athens gave "very positive signs" on the progress of the third review but a significant volume of work remains to be done, Eurogroup president, Jeroen Dijsselbloem, said in a press conference

on Monday

.
"The signals are very positive but there is still a lot of work to be done, especially with regards to the implementation of reforms," he said adding that "there is a commitment from everyone to complete the review preferably before the end of the year."
Asked about the Greek notaries' abstention from auctions, Dijsselbloem said Greek Finance Minister Euclid Tsakalotos pledged to take action to protect them from attacks.
Meanwhile, Greek media cite off the record statements by a senior Eurozone official who visited Athens last week, according to which the country will not be able to consistently tap markets to cover funding needs after its bailout program expires in August 2018.
According to the official, Greece's European lenders have already begun to consider a new form of support designed especially for Greece. The media are calling the new arrangement a "memorandum in disguise" and report that the SYRIZA-ANEL government are already discussing it with lenders. According to media reports, the International Monetary Fund is expected to have a supervisory role in such an arrangement while Athens will be offered a precautionary credit line and some form of debt relief.

Finance Ministry sources denied the speculation and made clear that no such deliberations have begun over a new program…/IBNA