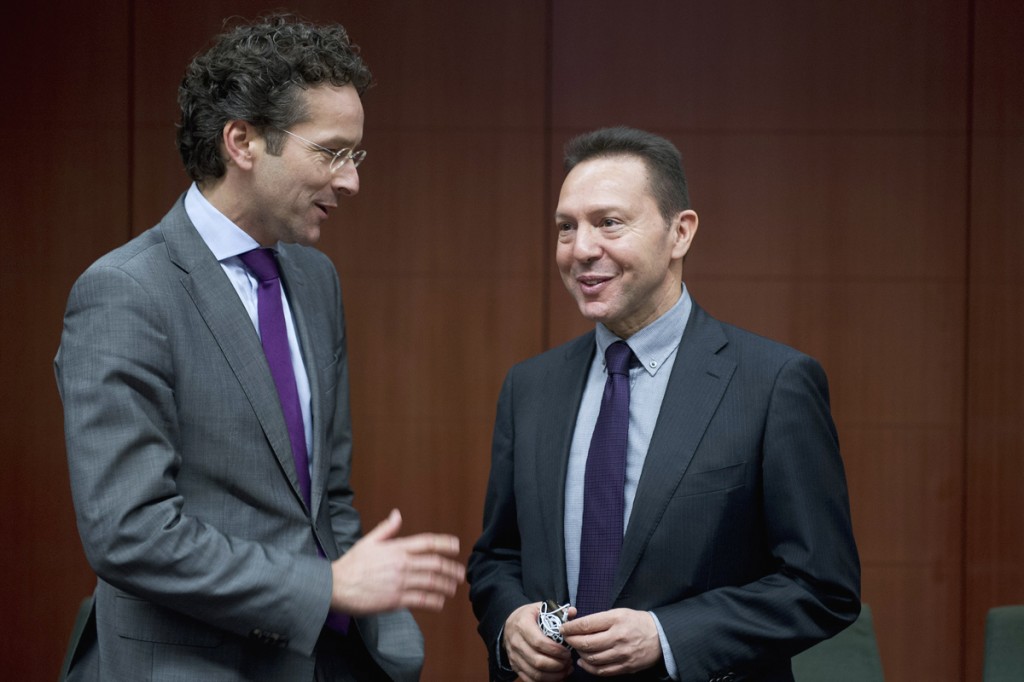 By Lefteris Yallouros – Athens
"It is crucial that Greece steps up a little bit their efforts in order for us to reach an agreement" Jeroen Dijsselbloem told reporters ahead of a Eurogroup meeting in Brussels Thursday.
In a press conference with European Commissioner for Economic and Monetary Affairs Olli Rehn and ESM chief Klaus Regling, Mr. Dijsselbloem went into further detail, outling four key areas where Greece must show further progress.
Pressing on with prior actions, remedying the fiscal gap, completing structural reforms and privatizations will see the next tranche of the country's rescue loan released without delay.
The Eurogroup President urged the Greek government to complete negotiations with the troika in order for the EU institutions to make their decisions on the Greek adjustment program and future steps in December.
Olli Rehn said the Eurogroup cannot determine the size of the funding gap Greece will need to cover next year before negotiations with the troika are over.
The two sides hope to wrap up talks before November 21st when the draft budget for 2014 is due to be tabled in Parliament.
Prime Minister Antonis Samaras reportedly urged cabinet ministers to be ready to face troika inspectors when they arrive in Athens on Friday.
Recession curbed in third quarter
Meanwhile, the Hellenic Statistical Authority (ELSTAT) released encouraging data showing the Greek economy is making progress towards recovery.
In the third quarter of 2013, GDP contraction reduced to 3 percent, while unemployment remained stable in August and showed some signs of decline in September figures.
The Greek Finance Ministry is optimistic that the contraction rate might stand at 3.8 percent, at the end of the year, due to strong tourism revenue impacting on the year's fiscal data.
BNP Paribas
A report by French bank BNP Paribas released Thursday says Greek GDP is performing better than forecasted as the country is benefiting from the reduction of the risk of an exit from the Euro as well as progress made in the adjustment program.
However, BNP analysts say low domestic demand will continue to hinder growth and funding of businesses needs to be boosted as do exports which currently make up 24 pct of GDP.